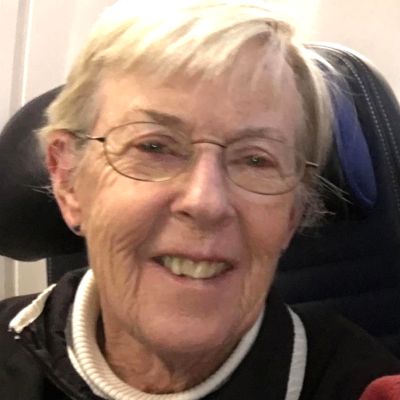 Cheryl
Carson
Help us celebrate Cheryl! Please share your stories and photos, and invite others who remember Cheryl.
Dr. Cheryl (Cashion) Carson passed away at the Mercy Hospice House on January 14; everyone who knew her lost a friend. She slipped away comfortably, surrounded by family and many of those friends. She will be missed.

As an undergraduate, Cheryl was given the nickname "Enigma" by a close friend because she didn't fit any existing model for a Purdue University coed in the mid-1960s. She continued to avoid stereotypes and pigeon holes through her lifetime. After a few years of working together in student government, she and her eventual husband, Chuck, recognized the inevitable and married soon after graduation. They came west and started their love affair with mountains and outdoor activities.

Cheryl was motivated by challenges, especially if told: "you can't do that." A first-generation college student, she graduated with a degree in education and began her professional career teaching high school. After a few years, she was drawn to counseling. Her desire to expand and focus her skills led to a Master's Degree at age 30, a Ph.D. in Psychology at age 40, and a career she loved.

These stages of her career grew as she explored her supportive and nurturing nature; she truly cared about others. Cheryl's presence was critical to the families of the more than 500 victims of the World Trade Center that as a Red Cross volunteer in 2001 she accompanied to ground zero. Many other people, including the post-doctoral interns she mentored on their paths to becoming licensed Psychologists; the students she taught in both public and night schools; those she taught to ski at Purgatory; and the families she served in her psychology practice, carry her nurturing patience as their lasting memory of Cheryl.

Love and family were the centers of her life. She and Chuck created a remarkable partnership that was still growing after 51 years of marriage, the last 20 spent in Durango. They raised two generous, caring children, Chad and Amy, who along with their spouses, Heidi and Derrick, completed Cheryl's family with four amazing grandchildren, Mackenzie, Clay, Karsen, and Sophia.

Sometimes as a leader but often quietly from the background, Cheryl brought energy into many communities: among them the National Parks, Fort Lewis College, the American Red Cross, the British National Trust, the New Mexico Psychological Association, and the Albuquerque Public Schools Citizens' Advisory Council. She and Chuck developed and coordinated the national-award-winning volunteer program at Mesa Verde. The Durango Chamber of Commerce named them the 2012 Volunteers of the Year; and from 2013 to 2015 they served as co-Presidents of FLC's Professional Associates.

Since its beginning a decade ago, Cheryl was on the Steering Committee for the Host Family program at Fort Lewis. Through it she built close connections with dozens of students, attending athletic events, hosting family meals, baking and decorating holiday cookies, and carving pumpkins. Trips to Mesa Verde or hikes in the mountains were frequent, and she visited students' families across the southwest and abroad. Their graduations, jobs, weddings, and babies offered numerous chances to celebrate long after they left FLC.

The near-constant twinkle in Cheryl's eye revealed a sometimes hidden sense of humor. Little pleased her more than poking fun at Chuck or at herself. It somehow satisfied her to know that hers was "the ugliest hole in one in the history of golf" -- never getting more than two feet off the ground (except when it bounced up off the edge of the paved cart path), it followed every contour and wound its way into the cup. She was fun to be with; and to her, life was a joy to be celebrated with friends and family. With her typical modesty, she often credited her humor and patience to the long years of being married to Chuck.

A memorial service is being planned. Contributions honoring Cheryl's life can be made to the FLC Foundation's Cheryl Carson Student Award Fund or to the Mercy Hospice House.


LINKS

The Durango Herald - Memoriams
http://www.durangoherald.com
Memories
Looks like something went wrong.
Reload the page and try again.