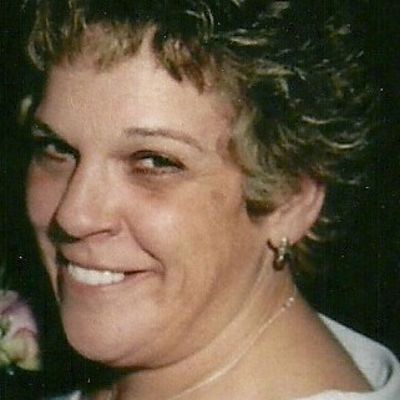 Cherie
Lynn
Tiedeman (Moyer)
Don't be a dumbass!
Cherie Lynn Tiedeman, 54, of Tamaqua, died Friday at St. Luke's Hospital, Bethlehem.

Born in Pottsville, Friday, Oct. 12, 1956, she was a daughter of Beverly Vollrath Moyer, Pottsville, and the late Sterling "Minyock" Moyer.

She was the wife of John Tiedeman, to whom she was married 13 years.

She was a member of Bethany Christian Fellowship EC Church, Cressona. Cherie attended Women of Faith with her sister, Debbie.

Cherie was a graduate of Blue Mountain High School and was employed as a manager and trainee manager at Dallas, Pa., Sheetz gas stations, and won multiple awards for store of the year.

In addition to her husband and her mother, she is survived by a daughter, Melissa, wife of Mike Bachert, Tamaqua; three sons, Jason and his fiancee, Amy Howard, Schuylkill Haven, Justin and his wife, Tonya Schrepple, Watertown, N.Y., and Joshua and his wife, Nicole Schrepple, Tamaqua; three sisters, Donna Botek, Minersville, Sharon Davis, Pottsville, and Debbie and her husband, Casey Gauker, Pottsville; 13 grandchildren, Brittany, Brandy, Jacob, Serriah, Hunter, Hannah, Lyndsey, Ariana, Sophia, Caleb. Izabelle, Xander and Shane; two stepchildren, David Tiedeman, Granville, N.Y., and Janet Tiedeman, Chicago; three stepgrandchildren, Kevin, Nathan and Joel; nephews, Dennis Gauker, Jim Long, Leroy Long, DJ Long and David Botek.

A viewing for family and friends will be held from 6 to 8 p.m. Tuesday and 9:30 to 10:30 a.m. Wednesday at Bethany Christian Fellowship EC Church, Front and Railroad streets, Cressona, followed by a Celebration of Life funeral service at 10:30 a.m. Wednesday, with the Rev. Dennis Snyder officiating. Interment will be at Cressona Cemetery, Cressona. The family requests memorial donations to be made to Bethany Christian Fellowship EC Church, 102 Front Street, Cressona, PA 17929. Ebling Stabingas Funeral Home, Cressona, has charge of arrangements. Condolences for the family can be left at www.gsesfuneralhomes.com.