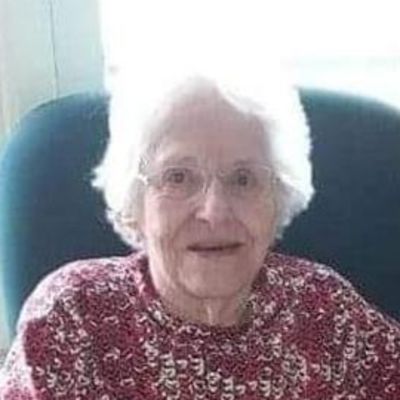 Charlotte
J
Boutwell
Join us in celebrating Charlotte—please share your stories and photos, and help spread the word about this page!
Charlotte J. (Nichols) Boutwell of Dublin, N.H., formerly of Keene, died January 28, 2021, in Lancaster, NH, beloved wife of the late Jeffrie R. Boutwell, Sr., whom she was married for 69 years prior to his death in 2016. She was 93 years old. She was born November 2, 1927 in Lempster, N.H., the youngest of ten children of Lucius H. & Beatrice M. (Harris) Nichols, Sr.

She attended schools in Lempster and graduated from Towle High School, Newport, N.H. in 1945. Upon graduation from high school, she was employed by New England Tel & Tel from 1945-1947 as an operator. After leaving New England Tel & Tel, she became a full-time housewife and mother from 1947-1952. Charlotte began her career in data processing with the National Grange Mutual Insurance Company in Keene, N.H. in 1952. In 1953, she became assistant supervisor in data processing and subsequently was appointed claims supervisor in 1954. In 1957, she became associated with Peerless Insurance Company in Keene, N.H. as a supervisor in the data processing department and assumed additional responsibilities as secretary to the manager. In 1962, she was appointed administrative assistant to the officer in charge of data processing activities.

She was an active member of the Silver Mountain Grange in Lempster, N.H. for many years, and active member of the International Management Council and had participated in annual Community Chest drives. She was an avid bowler at Yankee Lanes for many years when she resided in Keene.

Charlotte's career path changed in 1967 when she went to work for the Keene School District for a brief time as a data processing specialist in the business office. That same year, she became data processing supervisor at the Keene Clinic. In 1971, she returned to Peerless Insurance Company in the underwriting department. She remained at Peerless until her retirement in 1989 with her final title being Assistant Personnel Director.

After retirement, her greatest joy was working in her flower gardens at her home in Dublin, N.H. She loved her plants and flowers and had a fondness for Lady Slippers, which she counted and staked out every spring/early summer. She also tended to her wild blueberry bushes in the back of her home, which she enjoyed having with her morning breakfast. She did do some travelling with friends and daughters on occasion, having traveled to Canada, New Brunswick, California and Florida.

Survivors include daughter Linda Holmes and her husband, Allen of Groveton, N.H., four grandchildren, nine great grandchildren and seven great-great grandchildren, sisters-in-law Madeline Davis, Priscilla Nichols, and brother-in-law, Dexter Collins, and her "adopted" big brother, Roy Malool, who was a life-long friend of the Nichols family, as well as numerous nieces and nephews.

She wss predeceased by her infant son, Jeffrie R. Boutwell, Jr. at 3 months of age, daughter, Diane Kermick at 67 years of age, sisters Lillian Hartwell, Edith Hartwell, Louise Hoyt, Beatrice Johnson, brothers Harris Nichols, Lucius Nichols, Jr., Earl Nichols, Bruce Nichols, Orson Nichols and great granddaughter, Isabella Sue Pennel at 8 days of age.

Memorial service will be held in the Spring 2021 at Newton-Bartlett Funeral Home, Newport, N.H. Burial for both Charlotte and her late husband, Jeffrie will be in Pine Grove Cemetery, Newport, N.H., as their wishes were prearranged to be buried together. Arrangements by Newton-Bartlett Funeral Home, Newport, N.H.

In lieu of flowers, donations in her memory may be made to The Lempster Historical Society, c/o Laura Pinkney, PO Box 213, Lempster, N.H. 03605 or to Dublin Community Church, PO Box 308, Dublin, NH 03444.
LINKS
Newton Bartlett Funeral Home

Monadnock Ledger-Transcript
http://ledgertranscript.com
Memories
Looks like something went wrong.
Reload the page and try again.