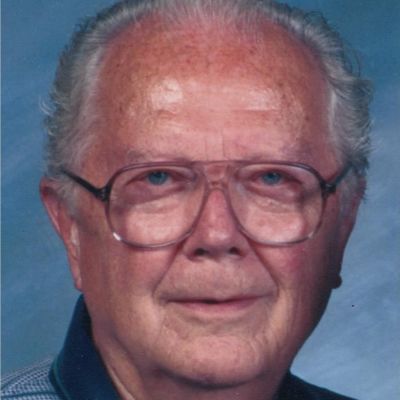 Charles
V.
Stephenson, II
Help us celebrate Charles! Please share your stories and photos, and invite others who remember Charles.
Charles V. (Chuck) Stephenson died July 25, 2021. He was born in Centerville, TN, October 1, 1924, to the late Claude B. and Carleen P. Stephenson. He spent his childhood in Centerville, where his father was a lawyer. He played high school football (offense and defense), and was president of his senior class. He enjoyed reading, woodworking, walking, gardening, and listening to music.

After his freshman year at the University of Tennessee, Knoxville he enlisted in the Army, serving in the 102nd Infantry Division. He was wounded in 1944 in Germany. After returning from the war, he obtained his bachelor's and master's degrees in Physics at Vanderbilt University in Nashville.

While in Nashville, he met Luellen (Lue) Hovey, an artist at the Baptist Sunday School Board. They were married in Birmingham, AL in 1948. He went to graduate school at the University of Kentucky and Vanderbilt, earning a Ph.D. in Physics from Vanderbilt in 1952. They moved to Albuquerque, NM, where he worked at Sandia National Laboratory, doing research in the then-new field of solid-state physics.

In 1956 the family moved from Albuquerque to Auburn, AL, where he worked as a professor in the Physics Department at Auburn University and was elected a Fellow of the American Physical Society and the American Association for the Advancement of Science.

They moved to Birmingham, AL, where he worked at Southern Research Institute, and then in 1962 back to Nashville, TN, where he joined the faculty of Vanderbilt University. He was a teacher beloved by his students, and rose to become chair of the Electrical Engineering Department. His wife Lue became active at Vanderbilt Children's Hospital, first as a volunteer and later as Director of Recreational Therapy. They served as Elders of Trinity Presbyterian Church, and took the family on summer vacations camping in Tennessee state parks.

After retiring, Chuck and Lue became volunteers for Room at the Inn and Habitat for Humanity. In 1999, they moved to Montreat, NC, and later to Givens Estates in Asheville, NC. They belonged to Warren Wilson Presbyterian Church and volunteered at Mission Hospital.

In addition to his parents, he was also predeceased by his wife, Luellen, his brothers Claude Jr. and Tom, and sister Carolyn. He is survived by his children: Dr. Charles Bruce Stephenson (Dr. Marija Norusis), Dr. Frances Luellen Lightsom, and Dr. Gregory Brian Stephenson (Dr. Carol Thompson); his grandchildren: Dr. Calvin Francis Hotchkiss and Samuel Stephenson Hotchkiss; and numerous nieces and nephews.

A memorial service will be held at the Norma F. Pulliam Chapel at Givens Estates in the near future. The family will schedule the service as changing COVID protocols and restrictions allow. Please monitor Chuck's obituary page at grocefuneralhome.com for the most updated information. Groce Funeral Home at Lake Julian is assisting the family and a guest register is available online.
LINKS
Groce Funeral Home
https://www.grocefuneralhome.com
The Tennessean
http://www.tennessean.com