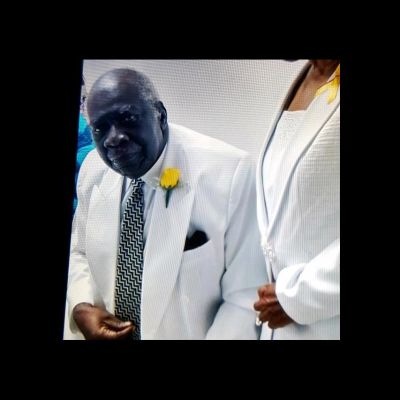 Charles
J
King
Forever My Hero
Charles J. King was born on January 17, 1938 to Daisy Harper King and Charles Pope. He departed this life on August 27, 2017. He was preceded in death by his brothers John L. Pope and Clarence Edward Washington.

Charles was a native and lifelong resident of Mobile, AL. At nine years of age, he accepted Christ and was baptized at Mt. Zion Baptist Church by Elder S. M. McCree and his uncle, Rev. Willis McCall. At Mt. Zion, he was a member of the Men's Bible Class, Male Chorus and the Voices of Praise Choir.

He attended Caldwell Elementary School, where he was crowned King of 1st Grade, Dunbar Jr. High School, and Central High School, class of '57. There he played on the football team. His jersey was number 58. He graduated from Alabama State University - Mobile Branch with an Associate's Degree in 1959.

He joined the United States Army in 1961 until he was honorably discharged in 1964. While serving his country as a ordinance supply specialist, he was decorated as a marksman on the M-14 rifle. He served his tour of duty in Germany and Havre de Grace, Maryland.

During his time in the army, he traveled extensively throughout Europe and mentioned Amsterdam as his favorite city. He later joined Alabama Power Company, where he worked many years before joining the City of Mobile Public Works until his retirement. He loved sports, in particular football, being a lifelong fan of the Washington Redskins. He was also quite the dresser and always like to look and smell good. His other passion was cars. He always had a "nice ride."

He leaves to cherish his beautiful memory: his very devoted sister, Delores King, Mobile, AL; his sweet, devoted niece Gretchen D. King, Montclair, NJ; great- nephew, Clarence D. Washington (Felicia); great-grand niece Carleigh Washington, all of Mobile, AL. Devoted cousins Mary Louis Harris (John), Mobile, AL; and Anita Orr, Mobile, AL.

Also mourning his passing, the children he raised: sons, Theron (Carmen) Florence, Leo Kenneth Florence and daughter, Yolanda Florence, all of Mobile, AL., and Malcolm "Greg" Alexander of Atlanta, Ga. Another son, Derrick Florence preceded him in death.

Other family, Ruby Collins, Flora Pickett, Chris Williams, Viola Devers, and Mushell Sullivan, all of Dallas, TX; the Hogan Family , Biloxi and Gulfport, MS; the Hudson Family, Mobile, AL; the Harper Family, Melbourne, FL; and the Washington Family, Detroit, MI.

Very special friend, Glenda Taite. Loyal friends Ruey Jackson, Freddie Sigler, Rivers Johnson, Norman Figures, Albert Lowery, Winston James and Robert Lewis.
Memories
Looks like something went wrong.
Reload the page and try again.