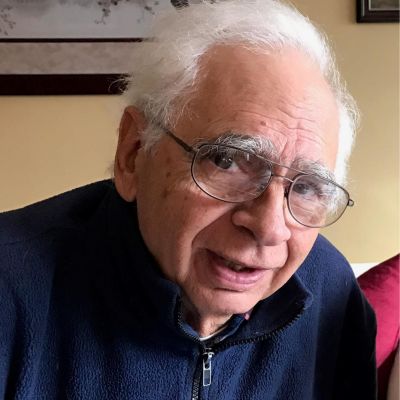 Charles "Charlie"
Slade Andrews
How do you know Charles "Charlie"? Please share your stories and photos, and help spread the word about this page!
Charles "Charlie" Slade Andrews, 81, of Reston, Virginia, passed away on 23 December, 2020 from end stage congestive heart failure due to nonischemic cardiomyopathy.

Charlie was born on July 19, 1939 in Middlebury, Vermont, son of the late John Thayer Andrews and Elizabeth Burditt Parker Andrews. He was born left-handed and was left side dominant for the duration of his natural life.

Charlie graduated from Middlebury Union High School in 1957 where he played on the varsity boys' basketball and baseball teams. While playing for the Middlebury Tigers he was deeply influenced by his coach Robert "Bob" M. D'Agostino, Sr. who not only mentored Charlie in how to play the games of baseball and basketball but also how to teach and coach young people. After high school he attended Amherst College to pursue his bachelor's degree. After two years at college Charlie decided to enlist in the U.S. Army where he served for more than two years in the Military Intelligence Corps while stationed in West Germany. At the end of his enlistment, he returned to Amherst College to complete his undergraduate education; he always attested that the time he spent in the Army had matured him and made him a better student. Charlie graduated from Amherst in 1964 though for the rest of his life he would celebrate reunions with the class of 1961 due to the close friendships he had forged with that class. Charlie completed his law degree in 1969 from the University of Maine Law School.

Charlie began his professional career working at Irving Trust Bank in New York City. After graduating law school in 1969, he worked for two years at Pine Tree Legal Aid in Skowhegan and Presque Isle, ME. In 1972 Charlie moved his family to Reston, VA where he worked for the American Automobile Association (AAA). After retiring from AAA in 1998 he started a second career as a bus driver for Fairfax County Public Schools, serving the Langley High School district. This would be Charlie's favorite job of all time. Known affectionately to his young bus riders as "Chuck", he was a safe driver able to navigate back-woods roads not designed for large vehicles and was often selected for difficult routes. Charlie loved working with children and he befriended generations of students as they progressed from elementary to middle to high school. His manner and discipline were calm, friendly, and he always treated children as intellectual equals with individual rights. Charlie retired from bus driving in 2019 after 21 years behind the wheel.

Charlie met the love of his life Constance Dwyer of Scituate MA in 1964 and they were married in 1966. Their son Patrick was born in 1972.

Charlie and his family were active members of Emmaus United Church of Christ congregational church in Vienna VA from 1973 until his death. For close to 20 years Charlie volunteered as a Sunday school teacher as well as an advisor for the Emmaus high school youth group; he also served on numerous church boards. He was particularly fond of working on student plays and was noted for encouraging youth to take on roles that reflected their abilities, not their gender or stereotypes. Charlie was also a long-term donor for the Emmaus chapter of the Inova Blood Donor Services program.

Charlie had many hobbies throughout his life. Math and statistics were his favorite academic subjects and he enjoyed puzzles and games. As a boy he loved spending summers at the family cottage his grandparents purchased in McKown Point, West Boothbay Harbor, Maine in 1944. The cottage is still owned and enjoyed by the extended Andrews family today. Charlie excelled at sailing. When, as young boys, he and his friend Pat Jackson grew tired of having to stay near shore, they taught themselves to sail backwards. As teens, they became competitive racers and Charlie gained the reputation of best "spinnaker man" in the harbor. Following his athletic career in school he continued to play team sports in several adult softball and basketball leagues in northern Virginia where he also coached a girls' basketball team known as "Charlie's Angels". Charlie was a devout fan of the Boston Celtics and Boston Red Sox and he attended many games at Fenway Park and the old Boston Garden. His sports knowledge was encyclopedic and he enjoyed discussing teams' fortunes with friends and family. His favorite athletes of all time were Bill Russell (Celtics, G.O.A.T) and Ted Williams (Red Sox). Over his lifetime Charlie visited almost all the major league baseball stadiums at least once, as well as those of many minor league teams. He subscribed to the Washington Post in order to read box scores for sporting events as well as to do the Word Jumble and sudoku. Charlie was an avid follower of politics as well as the Supreme Court and he would listen to radio broadcasts of their cases whenever possible. He was also a passionate and meticulous caretaker of automobiles and would embark on road trips as often as he could get away with it. He preferred used cars over new, buying only 2 new cars in 65 years of driving. His dream jobs that he did not pursue were working on a railroad, being a substitute math teacher, and being a truck driver.

Charlie was devoted to his family; he would make regular pilgrimages to Boothbay Harbor, Maine and to western Vermont to celebrate with beloved relatives from the Andrews, Bowditch, Cadwell, and Parker clans. In his later years a very good day for Charlie was sitting on the porch of the family cottage on a warm summer's evening discussing current events over supper and blueberry pie followed by watching the Red Sox on TV.

Survivors include his wife of 54 years Connie, his sisters Caroline Andrews (David Zuk), of Ellsworth, Maine, and Catharine "Kit" Andrews, of Burlington, Vermont, his son Patrick (Janet Brown) and grandchildren Paul, Magdalena, Claire, and Raymond of Fairfax Station, Virginia as well as many cousins, nieces and nephews.

Due to the Covid-19 pandemic a memorial service will be held at a later date.

Donations in his memory may be made to the American Heart Association, Emmaus United Church of Christ, or the charity of your choice.

Arrangements entrusted to Adams Green Funeral Home.
LINKS
Adams-Green Funeral Home
http://www.adamsgreen.com

Sun Gazette
http://www.insidenova.com