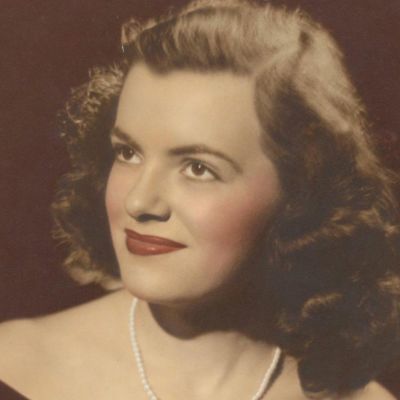 Carol
Jean
Goethe Freitag
How do you know Carol? Please share your stories and photos, and help spread the word about this page!
Carol Jean Freitag, 93, passed away peacefully in her sleep on September 22, 2021. Carol was born on January 7, 1928, in Watertown, Wisconsin, to Joseph and Hilda Goethe. She graduated from Watertown High School in 1945. On May 15, 1949, she married the love of her life, Rollie Freitag. They made their home in Watertown until 1990 when they decided to split their time between Cody, Wyoming and Naples, Florida. Carol loved to play golf and bridge, but most of all cherished the time she spent with family and friends and will be missed greatly by every person who was fortunate enough to know her.

Carol (Gram) is survived by her son Steve (Linda) Freitag of Oregon, Wisconsin, daughters Sandy (Bob) Freitag Christie of Cibolo Texas, and Mary (Pat) Meyer of Cody, Wyoming and brother John (Donna) Goethe of Delaware. She is also survived by her "darlings", the 5 grandchildren, Sarah (Josh) Durham, Logan (Lauren) Christie, Stephanie (Dylan) Freitag, Amy (Jeremy) Meyer, and Alicia (Dan) Singer and her three great-grandchildren, Zakry, Tyler and Aleah Durham.

Carol and her husband Rollie were very involved in the Watertown community.

At 5:00 pm (not a minute before) Rollie would make Carol a Brandy Manhattan on the rocks. Before Rollie passed in 2011, he taught Carol the exact amount of brandy and vermouth so she could make her own.

Carol would describe her best years as the years when she and Rollie could spend their summers and Christmases in Cody, Wyoming and the cold months in Naples Florida, with many visits back to Wisconsin in-between. During these years she was able to watch her grandchildren grow up and was very involved in each of their lives. Carol and Rollie hosted many sleepovers with the grandkids, attended plays and ballet performances, and would even wake up at 4am on Christmas morning to be there to open presents with her favorite kiddos.

Carol and Rollie would bring Wisconsin cheese and Watertown famous pizza burgers and the family would gather to eat and play gin together. They took all five grandkids to Disney World, Logan and Sarah first, then Steph, and then Amy and Alicia. They even gave in when the grandchildren begged them to go on Splash Mountain with them.

Carol loved living on the golf course in Naples, where she knew everyone. Every resident, every bartender at the clubhouse, every employee. She was very popular! She outlived most of her friends, but that didn't stop her from making new ones. In her later years, she referred to the new residents as the "youngsters". (Those in their late 60's). She loved playing bocce ball, attending her weekly water aerobics classes, bridge night with the ladies, going to church on Sundays, and playing golf in multiple leagues.

After Rollie passed away, Carol spent the first few years staying busy with all of her amazing friends in Florida and making a few trips back to Wisconsin and Cody to visit family. In 2014 Carol found love again. George Bachman entered our family and stole the hearts of us all when he drove our Gram out to Cody when flying became too difficult. George and Carol loved going to see movies at the local movie theater, golfing together, dancing, and their favorite thing to do was sing karaoke. Their relationship ended much too soon when George passed away suddenly in 2017.

Carol was a strong woman. She survived multiple car accidents and a terrible fall down a flight of stairs in her 70's that caused a brain injury. These incidents gave Carol an appreciation and love for each day of her life. She lit up a room with her smile and made every person she ever met feel so special. She will be remembered for many things, but the grandchildren will remember singing "Bushel and Peck" with her throughout all of our lives. Her song has ended, but her melody lingers on in each of us.

Cremation has taken place, There will be a family celebration of life to follow in the coming months.


LINKS
APG of Southern Wisconsin PP
https://www.janesvillecvb.com/meeting/details/4399/215946/APG__Southern_Wisconsin_Printing_Solutions