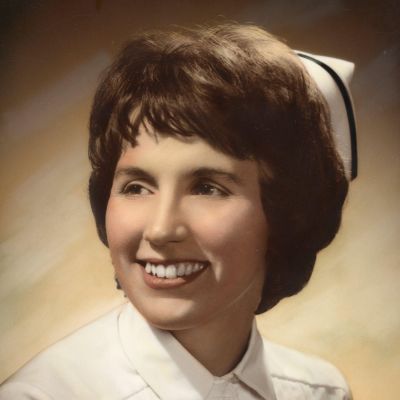 Carol
Jewell
Bourque
What do you remember about Carol? Share your stories and photos here, and invite others to come share their memories.
Carol Jewell Bourque, 79, of Lebanon, NH passed away on January 25, 2021 at the Lebanon Center.

She was born Carol Lee Jewell on April 19, 1941 the daughter of Richard and Lena Jewell.

Carol was a graduate of Stevens High School in the class of 1959. She was a majorette that was part of the Stevens high School Band that was invited to march in President Eisenhower's inaugural parade in Washington DC where there was only 12 High School Bands selected. The choice of a high school band to represent a state in this parade was an unusual honor that she did not take lightly and was one of her proudest moments.

She graduated from Sacred Heart Hospital, School of Nursing in 1965. She worked as an RN at Mary Hitchcock Hospital, Valley Regional Hospital but most of her career was at Sullivan County Nursing Home from which she retired in 1998. She loved being a nurse and her willingness to help others never ended.

Carol was predeceased by her parents and her brother, Edward Jewell.

Her proudest accomplishment was raising her boys: David Bourque Sr and his wife, Celeste of Claremont and Michael Bourque and his wife, Mary of Wilmot; grandchildren, Rae Luck and her husband, Josh, David Bourque Jr, Henri Bourque, Caroline Bourque and Abigail Bourque; sister, Linda Labaire and her husband, Neal of East Brookfield, MA and niece, Alison; sister-in-law, Susan Jewell of Davidson, NC, nephew, Eddie "Champ", nieces, Deanna and Marissa and many great nieces and nephew.

Special thank you to the wonderful staff at Lebanon Center Genesis. From the housekeeping staff to the dining staff to the office staff to all the nursing staff; everyone knew the lady with the bows in her hair. She would get your attention; even a quick wave hello would get a big Carol smile. Carol felt very close to so many there, before COVID-19, you would find her in the living room sitting pretty having her coffee. She loved to talk, do crafts, and show off her new clothes. Thank you all for the attention, the care, and the love you gave our mother, we appreciate every bit of it.

Donations may be made in her memory to the American Alzheimer's and Dementia Association.

Walk through calling hours will be held at Stringer Funeral Home, 146 Broad Street in Claremont on Friday morning, January 29th from 9:30 to 10:30. A Mass of Christian burial will be held at St Mary Church in Claremont at 11AM. Burial will follow in St Mary Cemetery.

Due to the COVID-19 pandemic, the Funeral Home and Bourque family ask all attending the visitation and service to abide with all regulations and please wear a mask and use social distancing.

To view an online memorial or send a private message of condolence, visit www.stringerfh.com.
LINKS
Stringer funeral home
https://www.stringerfh.com

Valley News of Lebanon
http://vnews.com