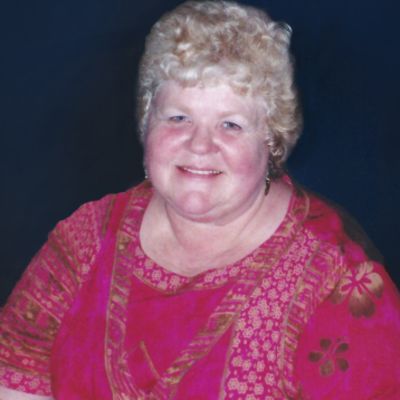 Camille
Elizabeth
Pasley
Share memories, stories & photos about Camille. A celebration of life takes place on September 23rd. See invitation link at end of obituary.
Beloved by family and friends alike for her big personality and generous spirit, Camille Elizabeth Pasley passed away on Wednesday, August 16, 2023 in Roseville, California. Camille was 79 years old and was with loved ones at the time of passing.

Camille was born in Los Angeles in 1944 to parents Walter Lammerts and Miriam Schlichting, joining sister Karen. She grew up in hilly La Cañada near the mansion of newspaper tycoon Manchester Boddy, where daily life was enlivened by regular sightings of mountain lions. She remembered the smell of orange blossoms when driving around LA of the 1940s, still ripe with orchards. She was proud of her father's role as a professor at UCLA, a garden designer at Descanso Gardens, and creator of award-winning roses.

Following a move to Livermore, the family made many cross-country car trips to Vermont on single lane roads, before highways sprawled from coast to coast. Camille and Karen tragically lost their mother in 1954, but stepmother Maxine joined the family a few years later. As Camille described it, high school in Livermore (Class of '61, Livermore High) closely resembled the movie American Graffiti, with illicit parties, drag races, and outings in a bright red, custom-painted Chrysler Imperial that was gifted to her father for creating the rose of the same name.

Attending college at San Francisco State, Camille met lifelong friends and her first husband, Jeff Wade. Although her stepmother Maxine insisted on white-glove formality when shopping in Union Square, Camille's San Francisco involved unauthorized nighttime escapes from the women's dormitory and cinematic adventures in North Beach. She and friends Jimmie, Jeff and Lee embraced the city's bohemian spirit and reenacted Fellini films with white bedsheets and limited clothing. When she and Jeff later married, she wore a turquoise velvet dress and white flowers in her hair. There may or may not have been a nighttime sighting of a white rabbit in the middle of a San Francisco street.

After college, Camille triumphed over Crohn's disease, a serious car accident, and divorce, with friends and her beloved Aunt Charlotte providing support. She had lots of fun in San Francisco, enjoying monthly rent with only two digits and living in every possible neighborhood. Camille met second husband Jose and had daughter Marina in 1972. The family lived in SF's Mission, Berkeley and Atascadero, and then moved to Spain in 1976 following a wild road trip across the country, a stay in Savannah, and a Yugoslavian freighter ship to Casablanca. Camille taught at the British school Colegio Oak House in Barcelona before divorcing Jose and moving to Sacramento, California.

Camille was proud to have worked for the State of California's before-its-time Solar Energy Commission, and to have met Governor Jerry Brown during his first term as Governor. She soon met Richard, and they got married at the Bucket of Blood Saloon in Virginia City, Nevada. Daughter Valerie was born in 1980, and Camille continued a long career in state government while keeping the spirit of a carefree wanderer, bringing her daughters along on countless weekend adventures. She loved old cemeteries and would stop at tiny Gold Rush towns to peer at intriguing headstones. She enjoyed embarrassing her teenage daughters while cruising in her car – windows-down, loud music – and was an enthusiastic shopper who liked to eye her daughters' clothing fit in dressing rooms. Wherever she went, Camille's extroverted personality and joy in chatting with anyone and everyone won her a large and heterogeneous mix of friends, not to mention unpublished shopping discounts. She masterminded family road trips to Yellowstone, British Columbia, and the Grand Canyon, and neighbor and family friend Kristin became a fixture in family and weekend adventures. When the time came, Camille strongly supported her daughters' investments in a college education, and was an unfailing cheerleader in their education and career goals. She herself completed a Master's in Education later in life.

When Camille was able to take an early retirement, she took a once-in-a-lifetime, six-month, round-the-world cruise visiting all seven continents in 1999 with the company Marine Expeditions. The cruise included stops in far-flung locations like Cape Verde, the Falkland Islands, Antarctica (including visiting with penguins!), Easter Island, Bora Bora, Sri Lanka, the Seychelles, Kenya and the Suez Canal. She loved talking about her many adventures on the trip.

Later in life, Camille was thrilled to become a grandmother, and she shared limitless time and love with her grandchildren, playing an active role in their lives and caretaking. Her daughters threw her a surprise party for her 60th birthday at Harlow's in Sacramento, and family and friends from all over attended to celebrate a life lived with joyful abandon. Partygoers included a wide mix of people of all ages, demonstrating that her quirky, comedic and enthusiastic approach to life attracted many fans and admirers. She continued to make new friends when she moved to Santa Cruz and then to Marysville to stay near her grandchildren. Toward the end of her life, Camille suffered from Alzheimer's disease, but she continued to display a grace and generosity of spirit whenever she could. We love you, Camille, and we always will.

Camille is survived by her daughters, Marina (Devin) and Valerie (Ryan), former husbands Jeff & Richard, her sister, Karen and her grandchildren, Boden, Ryker and Paloma, as well as loving nephews, friends and other family members.

An in-person celebration of life will be held on Saturday, September 23rd at the home of daughter Valerie in Newcastle, CA. Please RSVP at the link below. For people who wish to gather remotely, there will be a Zoom video gathering on Sunday, September 24th at 10am Pacific - contact Marina for the details. If you wish to record and upload a video with your memories of Camille, see second link below.
LINKS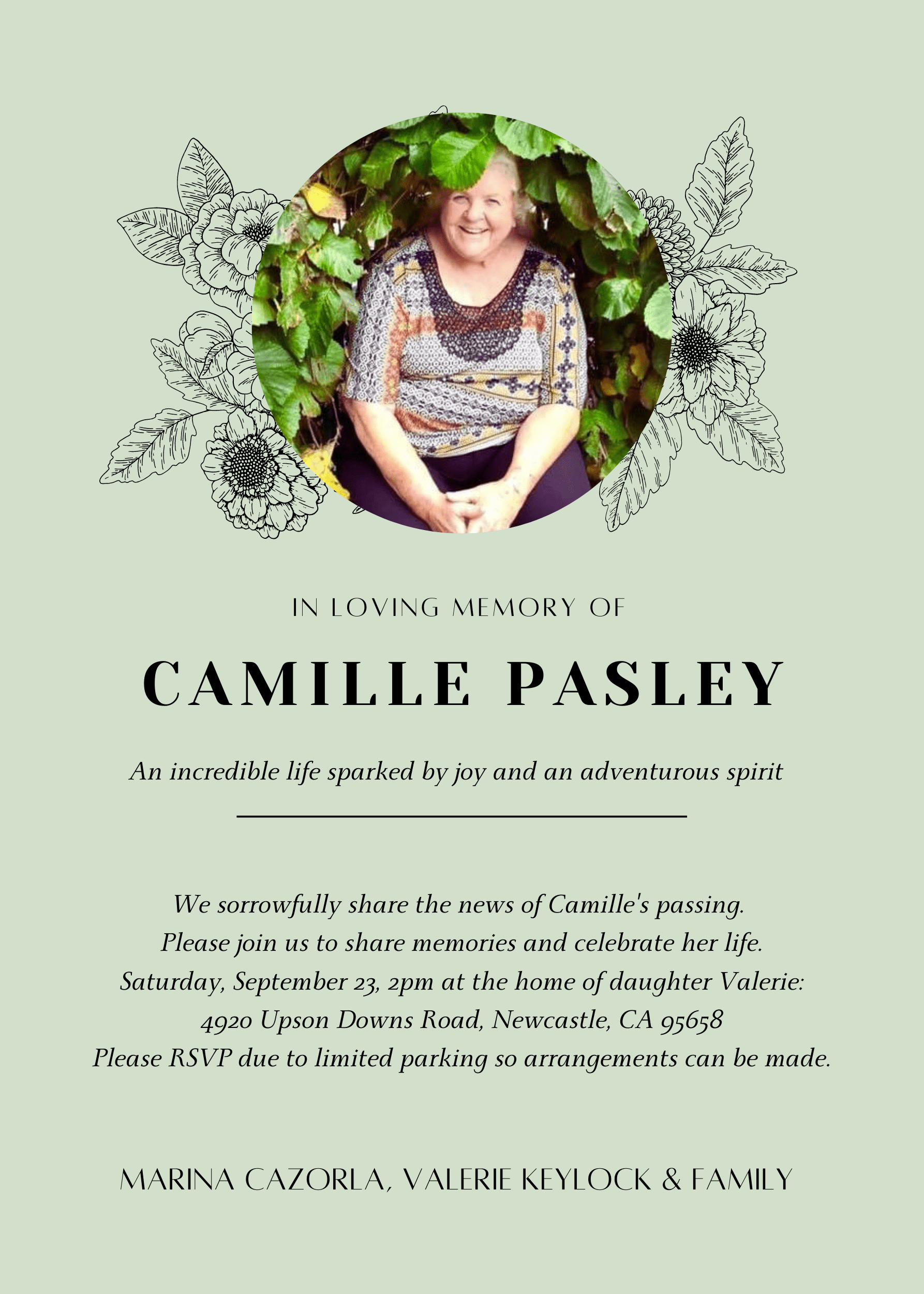 RSVP here for the in-person celebration of life
https://www.punchbowl.com/parties/267521cc4840b977158d
Record a video about Camille
https://www.tribute.co/camillepasley/?invite=copy_link