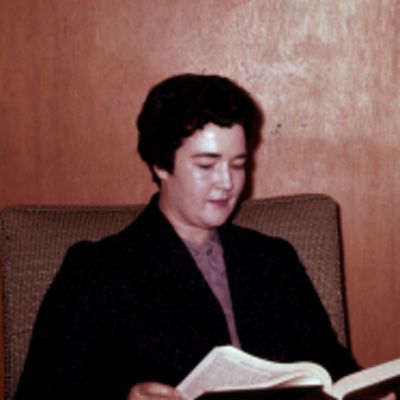 Bonita
"Chris"
Christine (Mimi)
Tucker
"Peace on earth will come to stay, when we live Christmas every day". -- Helen Steiner Rice
Obituary

Bonita "Chris" Christine McGuire Tucker was born November 9, 1930 in Mayfield, Oklahoma to Elbert and Bonnie Spencer McGuire. She passed away March 10, 2002 in Stillwater, Oklahoma at the age of 71.

Christine grew up in Mayfield, Oklahoma and graduated from Sweetwater High School in 1948. She married Billy B. Tucker at Sayre on February 12, 1949. She followed her husband to OSU until 1952. She and Billy then resided in Champaign, Illinois, moving to Stillwater in 1956, where she lived until her death. She enjoyed ceramics, sewing, crafts, painting and OSU athletic events, but her favorite hobby was her home. Chris was involved as a church volunteer and was alway a benevolent worker and caregiver. She was a Sunday School teacher, nursery worker, Girl Scout Leader, home room mother, food bank volunteer and a mother to university students away from home. Chris played a vital part in the care of her mother, who is 100 years old. She had a love for people and gave her time and resources generously. She loved her husband's gardening and flowers.

Chris was a member of the Church of Christ. She was also a homemaker.

She was preceded in death by her father, Elbert McGuire.

Survivors include: her mother, Bonnie McGuire of Sayre, Oklahoma; her husband, Billy B. Tucker of the home; one son, Stan Tucker of Plano, Texas; two daughters, Ann Wilkinson and her husband, Ron of Tulsa, and LaDonna Fuchs and her husband Curtis of Stillwater, 8 grandchildren, Mark Wilkinson of Milwaukee, WI, Matt Wilkinson of Tulsa, Rebecca Wilkerson of Tulsa, Brent Fuchs of Stillwater, Brian Fuchs of Tulsa, Bradley Fuchs of Stillwater, Opie Tucker and Annie Tucker both of Plano, Texas; 5 great grandchildren; two brothers, J.E. McGuire and Glen McGuire, both of Stillwater, Oklahoma.

Services will be held Thursday March 14, 2002 at 2:00 p.m. in the Stillwater Church of Christ, officiated by Richard Poe. Interment will be held in the Sunset Memorial Gardens in Stillwater, Oklahoma under the direction of Strode Funeral Home.

Those wishing to give donations may do so to Rainbow Preschool, Church of Christ, 821 N. Duck, Stillwater, Oklahoma 74075.
Memories
Looks like something went wrong.
Reload the page and try again.