Bobbi
Alpers
What do you remember about Bobbi? Share your stories and photos here, and invite others to come share their memories.
Bobbi Alpers, a jurist who became the first female Chief Judge of a Judicial District in Iowa state history died Thursday, December 24, 2020 of complications of early-onset Alzheimer's at her home in rural Jackson County.

A gathering of family and friends celebrating Bobbi's life will be held from 4:30 to 6:30 P.M. on Friday, September 10, 2021 in "The Bistro" at Carson Celebration of Life Center in Maquoketa. Casual Attire. And please, no memorial gifts. Those unvaccinated against Covid-19 must wear a mask.

Bobbi was born September 10, 1951 in Vinton, Iowa to Harold & Dorothy Alpers. Even as a child she exhibited a nurturing nature and extraordinary leadership skills, playing the role of schoolteacher to a classroom of two, her younger sister and brother.

Bobbi became expert at adapting to a continually shifting landscape, as her father transferred often for his job. Consequently she attended schools in Vinton, Manchester, Fort Dodge, Cresco and, finally, Maquoketa where she graduated with the Class of 1969.

Four years later she graduated magna cum laude from the University of Dubuque with a double major in English & French with a minor in history. In 2013 she was named an Alumna of Distinction at the university.

Bobbi taught middle school English in Forest City for a year before returning to school at the University of Iowa where she earned a Master's Degree in English. She was offered a position as a high school English teacher in the Pleasant Valley School District, where she stayed until 1980, when a new career beckoned.

In 1983 she graduated from the University of Iowa Law School, and was immediately offered a position as a judicial law clerk in the 7th Judicial District in Davenport, Iowa.

She worked as an Assistant County Attorney before opening her own practice. She was chosen to be a Judicial Magistrate in Scott County and in 1990 was chosen by the governor to be a District Court Judge. At the time she was the only female judge in the five-county 7th Judicial District.

In 2007 the Iowa Supreme Court chose her to be the Chief Judge of the District, the first female to become a Chief

Judge of a district in the century-and-a-half of Iowa's legal system. She was a terrific, empathetic, compassionate judge and was unsurpassed as a kind, thoughtful human being. Clark Kauffman of the Iowa Capital Dispatch wrote: "No matter where I saw her - at the courthouse or elsewhere - Bobbi was always the most engaged, energetic and smartest person in the room."

Bobbi navigated her way through a "man's world" brilliantly and sweetly.

She married Kurt Ullrich in 1983.

She is survived by her husband, Kurt, her sister Peggy of Oak Lawn, IL, and brother Mikel of Wood Dale, IL. Additional survivors include a niece, Elizabeth, and nephews Nicholas and Nathan.
LINKS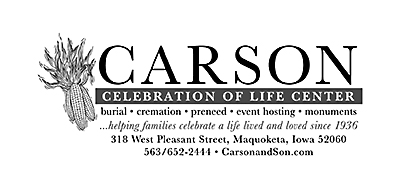 Carson Celebration of Life Center
Clinton Herald
http://www.clintonherald.com
The Des Moines Register
http://www.dmregister.com

Telegraph Herald
http://www.thonline.com