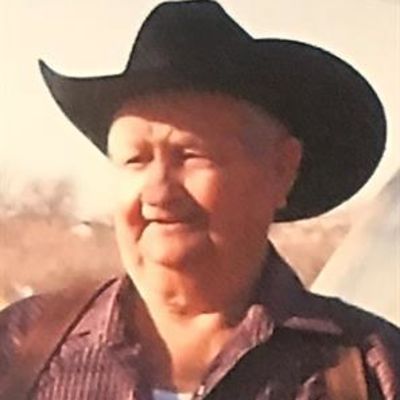 Billy
Eugene
Proctor
What do you remember about Billy? Share your stories and photos here, and invite others to come share their memories.
Billy Eugene Proctor, aged 84, of Odessa, TX passed to the Lord on Saturday May 12, 2018 at his home surrounded by family.

He was born July 22, 1933 to Elbert Eddie Proctor and Carrie Bell (Price) Proctor on the family farm in Gomez Texas, the 10th of 11 children. Bill helped work the family cotton farm as well as work in construction until he met and married the love of his life Virginia Elberta Farquhar December 25, 1952 in Gomez.

Only finishing the 6th grade, Bill was a jack of all trades and worked many different jobs to support his growing family. In his early years he roughnecked, iron worked, welded, worked on the family farm, hauled cotton, and shod horses. He also had his horse business that included breeding, buying, selling and trading.

Bill and Virginia moved their family to Odessa in 1962 and built Proctor Stables. From the stalls to the barn and arena, even adding on to their house, Bill and Virginia built their lives around Proctor Stables. Many memories by family and friends can be associated with growing up at Proctor Stables.

Bill not only was a son and brother, he was a husband, father, grandfather and great-grandfather who loved his family dearly. Over the years he enjoyed many things including racing horses, playing poker with family, raising horses for the race track and for his girls to train for barrel racing. Bill was a kind-hearted and generous man who would never hesitate to help someone down on their luck often lending a few bucks or trading items for cash to help someone in need.

Bill and Virginia were married 65 years and together had 6 children, Sheila, Kay, Donna, Elbert, Delbert, and Vickie.

Bill is preceded in death by his parents, 9 siblings and two sons, Elbert and Delbert.

Those left to cherish his love and memories include his loving wife Virginia, his four daughters and their husbands, Sheila (Tommy) Zant of Odessa, Kay (Robert) Blandford of Sutherland Springs, Donna (David) Barnett of Odessa, Vickie (Pat) Liles of Greenwood, four grandchildren, Kasie (Kyle) Logsdon, Austin (Cassie) Freeman, Brett Liles, Kyle Barnett, and three great-grandchildren, Cameron Freeman, Kesley Logsdon, Kason Freeman.

Bill is also survived by his brother Lee Proctor (Billie) of Odessa, sister Flossie Nutt of Brownfield and numerous nieces and nephews.

Funeral services will be Wednesday May 16, 2018 at 10am at Northside Baptist Church in Odessa, TX with Brother Clydel Chapman officiating. Pallbearers will be David Barnett, Kyle, Barnett, Robert Blandford, Austin Freeman, Brett Liles, Pat Liles, Kyle Logsdon, and Tommy Zant. Bill will be laid to rest at the Ector County Cemetery. Arrangements are entrusted to Hubbard-Kelly Funeral Home with visitation on Tuesday May 15, 2018 from 6 to 8pm at the funeral home.

The family would like to express their gratitude to Hospice of Odessa and the wonderful nurses Tracy, Cindy, Kayla, Christina and Melissa for their care and compassion in this difficult and emotional time. These ladies are a true blessing.

In lieu of flowers please donate to the American Cancer Foundation or the Alzheimer's Association.


LINKS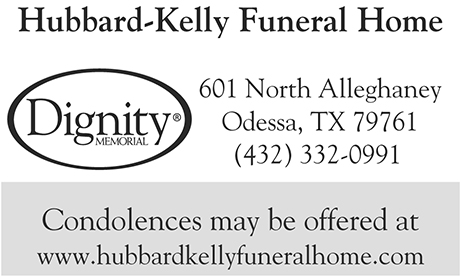 HUBBARD KELLY FUNERAL HOME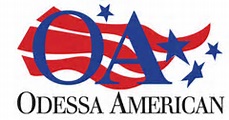 Odessa American
http://www.oaoa.com