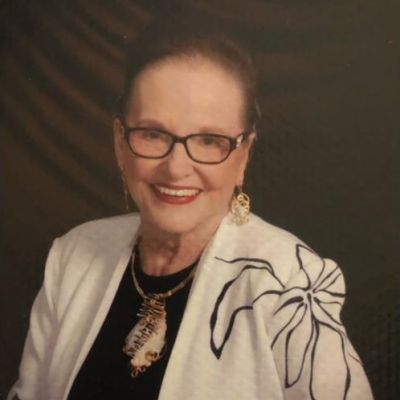 Billie Futch
Floyd
Help us celebrate Billie Futch! Please share your stories and photos, and invite others who remember Billie Futch.
A mother's love never ends. It lives in the hearts of her children forever.

The children of Billie Floyd sadly announce the passing of their beloved mother. She went to her Lord on November 4th at the age of 96. She was a shining example of her generation, the greatest one. Born in St. Augustine, Florida on July 2, 1925 to Bill and Julie Futch, she was the youngest of five children. The Great Depression swept her family into a struggle where grit and determination made the difference. That lesson was not lost on young Billie.

After graduating from high school, Billie worked at a local Ft. Lauderdale movie theater. There she met her future husband, a handsome naval officer training for WWII duty. He was fascinated by the beautiful ticket seller. They fell in love and arranged to marry in Booth Bay Harbor, Maine, her fianc?s next training station. She boarded a troop train and rode it all the way up the coast. Until then she had never been out of Florida. She spent the next 64 years living the adventures that trip started.

During the war years, Billie experienced many of the challenges of home-front wives. Her husband was stationed in the Atlantic and Pacific theaters with brief home leaves in between. Billie worked for the war effort, scrapbooked every news article about the different campaigns, and prepared for the arrival of their first child. Her husband learned of the baby's birth by ship-to-ship Morse code. "It's a girl!", it blinked.

After the war, the family was stationed in Washington, D.C. where their second child was born. Billie's husband worked in the White House as an aide de camp. At one social occasion, Billie met President and Mrs. Truman. This was one of many memorable experiences she would relate to family over the years.

Sea duty to shore duty, Billie packed and moved with two children in tow. Once there, she organized the new home, saw to her children's schooling, and hosted elaborate entertainments for the naval and civilian communities. She loved to cook and became an accomplished gourmet. Also, from her time in Booth Bay on, she loved to play Bridge, especially Duplicate. She retired as a Ruby Point Master.

During another assignment in D.C., their third child arrived. Not soon after his birth, they packed to move to Charleston, S.C. Billie loved Charleston. It wasn't a duty station to her. It was home. There they settled into a house on Peaks Pike in West Ashley and welcomed their fourth child.

Orders to D.C. appeared again. There Billie met one of the biggest challenges of her husband's naval career. He was assigned as the naval attach? to Fidel Castro's Cuba. After they moved to Havana, the tension between the regime and US erupted because of the impending missile crisis. Billie and the children were ordered to the safety of Miami. Her husband stayed to close the embassy. He fled the island with the last remaining U. S. embassy flag. Later, at Billie's behest, that flag was donated to the Charleston Museum to honor her late husband, Captain Joe Floyd.

After a tour in Panama and then D.C. the Floyds decided to retire to their beloved Charleston. They built a home on Knotty Pine Road on James Island, and each began to contribute to the rich culture of Charleston life and enjoy the arrival of many grandchildren. Billie opened a medical uniform shop, Charleston Uniforms, near Roper Hospital. There she served the medical community for many years.

Billie's beloved Bethel Methodist Church became the center to her life for many years. Cooking and organizing events for the church gave her great joy. The Charleston Symphony Orchestra League, Symphony Designer House, Spoleto, and the Charleston Bridge Center were other places and events where she volunteered, contributed, attended, and loved.

The last years of her life were spent at Somerby Active Seniors Home in Mt. Pleasant. There she was known as "Miss Billie" because of her elegant style and grace. Her abundant life was filled with family, friends, love, laughter, and... great cooking!

Billie is survived by her four children: Julee Ford (Tom) of Republic of Panama, Candy Culberson (Jack) of Sierra Vista, Az, Joseph "Chip" Floyd (Pam) of Beaufort, S.C., Wayne Floyd (Kristie) of St. Thomas Island, S.C.; 10 grandchildren: Scott (Natalia), Paul (Davene), Mark, Renee (David), Christine, Colette (Drew), Jody (Sara), Alaina, Weston (Michelle) and Adam (Lauren); 11 great-grandchildren: Matthew (Monica), Josh, Sierra, Sarah, Nathan, Sam, S.J., Adrian, Nathan, Emma Grace, and Harry; and two great-great grandchildren: Shawn and Lynn.

Funeral arrangements are being made by J. Henry Stuhr Downtown Funeral Chapel. There will be a visitation at the J. Henry Stuhr Chapel on Calhoun Street Monday November 15, 2021 from 5:00 until 7:00 p.m. A memorial service will be held in Bethel United Methodist Church downtown at the corner of Pitt Street and Calhoun on Tuesday, November 16th at 12:00 p.m. Interment will follow at 1:30pm at Holy Cross Cemetery at the intersection of Harbor View Road and Ft. Johnson Road on James Island.

In lieu of flowers the family is requesting that donations be made in Billie's name to the Charleston Bridge Center, Symphony Designer House, or the Charleston Symphony Orchestra.

A memorial message may be sent to the family by visiting our website at www.jhenrystuhr.com.
LINKS
J. Henry Stuhr Inc.
http://jhenrystuhr.com
The Beaufort Gazette
http://www.beaufortgazette.com