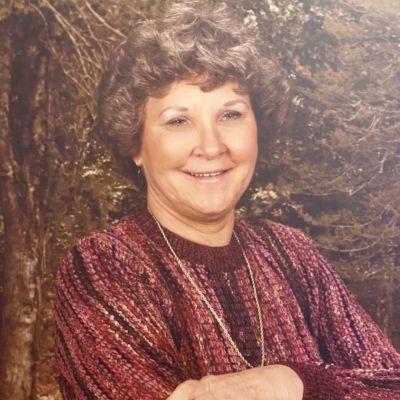 Mrs.
Betty
D.
McCaslin Orr
Did you know Betty? Please share your stories and photos, and help spread the word about this page!
Betty Delilah McCaslin Orr died at home peacefully on 20 December,2021. She was 94 years old. She was born on 22 August, 1927 to Austin and Agnes McCaslin in Darlington, MD. She was the second of five children. Her siblings (Ralph- US Army), Norman (USMC), Clyde (USAF), and youngest sister Dorothy, as well as her parents, all preceded her in death. Betty was truly the last one standing and will be missed by many.

Betty grew up during the Depression into circumstances that were tenuous at best. There was lots of moving and many different schools but somehow the family stuck together. She quit school at a young age and began working at Aberdeen during WWII. After the war was over, she met and married Roy Lee Orr of Rising Sun on 19 January, 1946 and they began their life together. Like most young couples, they experienced the struggles and hard work of raising a family. There was again lots of moves and jobs lost and new jobs found. But somehow, they endured and in 1955 were able to settle in Rising Sun in their own home, just across the highway from the Orr family farm.

Betty was a devoted wife and mother. She always kept a very tidy home and her Thanksgiving, Christmas, and Easter dinners were legendary. She would serve turkey and ham and crab imperial, whipped potatoes and yams, and homemade rolls that would have risen six inches or more and just as light and fluffy as the clouds in the sky. Then there were the pies and the cakes--- apple and cherry and coconut cream and the apple cake. Pie crusts were rolled out at home, made from scratch and apples were freshly sliced, never out of a can. Betty's baked goods were always sought out at the many venues to which she would contribute. Her pies and cakes and cookies were hot items that sold quickly at Jane's Methodist, American Legion, and West Nottingham bake sales. She would never cut corners.

Betty also enjoyed gardening. She was always out in the yard, tending to her roses, weeding the flower beds, planting something or other or digging something up. Even the grass itself was like walking on air. It was so thick and soft and you could cut the lawn in your bare feet.

Betty was not all work and no play however. She enjoyed traveling and being out with her friends. She took long trips to Europe and Hawaii and Alaska. She would go on weekend and day trips to more local destinations. Elaine Webb was an early co-pilot and then that job went to Ruthie after Elaine passed. She was also a very good story teller and had this way of being really funny but genuinely not realizing how funny she could be.

Betty was preceded in death by her husband Roy of 56 years and by her oldest son Ronnie. She is survived by sons Keith, Sheldon, Shawn and by daughter Debbie Wilson and by nine grand-children and many great grand-children. In lieu of flowers, it is requested that donations be made to either Jane's Methodist or to the American Legion Auxiliary, where she was both a long-time member. She was also an animal lover, taking in a number of strays during her lifetime so donations directed toward the local SPCA are also appropriate. Many thanks to caregivers Jean, Patsy, Donna, and big, big thanks to Arlyce. Thanks to Medisys Hospice- all the nurses and health aides that helped with her care, especially Tiffany. Thank you so much. You're the best. And bless all of you out there for your kind thoughts and prayers. She lived a good life and will be missed by all.

A graveside service will be held at West Nottingham Cemetery - 1195 Firetower Road, Colora, MD - on Thursday, December 30, 2021 at 11:00am. To leave online condolences go to www.rtfoard.com
LINKS

R.T. Foard Funeral Home, P.A.

Cecil Whig
http://www.cecildaily.com/site/contact.html