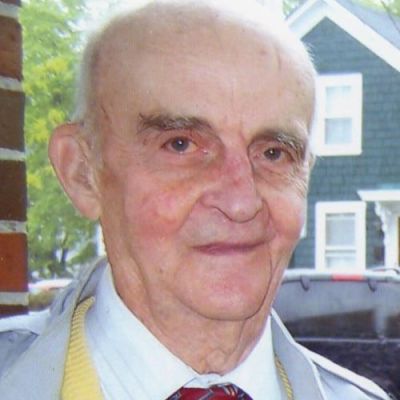 Bernard
W.
Stone
What do you remember about Bernard? Share your stories and photos here, and invite others to come share their memories.
Bernard Wesley Stone, 96, died on Sunday, January 17, 2021 at the VAMC in White River Junction, VT.

He was born in Cornish Flat, NH on August 19, 1924, the son of Harold and Willa Stone.

At age three he moved to Plainfield with his parents and attended grade school there. He attended Windsor High School until he was drafted into the United States Army, April 1st1943, while a senior, and was inducted at Fort Devens, MA.

After basic training at Fort Knox, Kentucky, Camp Campbell, Kentucky and Camp Patrick Henry VA, he was shipped out of Newport News, VA on February 5th, 1944, arriving in Great Britain, England, February 18, 1944 where he had more training.

He was a tank driver in Co. D, 32nd Armored Regiment of the 3rd Armored Spearhead Division, that served in Northern France, the Rhineland and Central Europe (Belgium and Germany).

He was wounded in action on October 8, 1944 and spent a month in the 25th General (tents) Hospital, in France. Later being moved to a hospital in England where he was hospitalized for more than three months. He still carries the shrapnel in his shoulder and side, that the doctors were unable to remove in surgery due to severe bleeding.

On October 19th, 1944 he was awarded the Purple Heart for Military Merit, the Conduct Medal and Victory Medal. He received an honorable discharge on December 21, 1945.

Returning to his parents' home, he assisted his father, in his painting and papering business. When he was able, he joined his brother David building homes in the Lebanon area for a short time, later working for building contractors, Joseph Meyette and Richard Collins. In 1978 he was hired by LaValley Building Supply, where he worked in the window shop until his retirement in 1990.

He enjoyed family and friends, his involvement in the Masonic Association, and his annual reunion trips to join Co. D. comrades in the 3rd Armored Division.

He was a life member of the 3rd Armored Division Association, the Order of Purple Heart and VFW Post 808, Claremont. Also, a member of the Battle of Normandy Foundation, to commemorate people who fought there and the Association of 3rd Armored Division Veterans.

He was a charter member of the Plainfield Rifle Club, actively participating for more than 50 years. An 80-year member of Blow-Me-Down Grange, and a member of the Community Baptist Church, Plainfield.

He was a 60-year member who served as past Master and past Secretary of the Cheshire Masonic Lodge #23, Cornish Flat, having joined in 1955. He served as Chaplain for many years. He was appointed Grand Steward of the Grand Lodge of New Hampshire in 1996, by Grand Master Douglas Robertson. He received the prestigious Major General John Sullivan Award. He was also a member of the Blue MT Order of Eastern Star.

After his parent's deaths, he resided with the Paul Rollins family in Cornish. He was presented the Boston Post Cane for Cornish's oldest resident.

He was predeceased by his brothers, Francis, Jesse, David, Leslie, Harold and a brother Hiram who died while a member of the U.S. Army, also a sister, Barbara Stone Sweet, niece May Stone Sullivan and nephew Christopher Stone.

He is survived by a sister-in-law, Theresa Stone and several nieces, nephews, cousins and extended family members.

A graveside service with the Masons and military honors will be held in the spring.

Arrangements are with Stringer Funeral Homes and Crematorium, 146 Broad Street, Claremont, NH 03743. To view an online memorial or send a private message of condolence, visit www.stringerfh.com.
LINKS
Stringer funeral home
https://www.stringerfh.com

Valley News of Lebanon
http://vnews.com