Bennie
Parris
What do you remember about Bennie? Share your stories and photos here, and invite others to come share their memories.
Mr. Bennie Parris was born to Donnie L. Parris and Eula B. Cooper Parris on June 3, 1950 in Burke County, Georgia in a God-fearing home filled with love and eleven (11) older siblings. On Thursday, November 25, 2021, Mr. Parris made his transition to be with the Lord.

He joined the Green Grove Missionary Baptist Church in Augusta, GA, accepted Jesus Christ as Lord and Savior and was baptized in 1960.

Bennie's grade school education began in Burke County and was completed in Richmond County when his mother moved to Augusta. Bennie's passion for music began while attending Levi White Elementary and blossomed in high school while playing the bassoon in the Concert Band, but exploded when he played saxophone as a member of the Magnificent 100 Marching Band at T.W. Josey High School. Bennie was a Class of 1968 graduate of T.W. Josey High School. He later attended Fort Valley State College and majored in music. Bennie was an avid worshipper as he praised and honored God through music as did the Psalmist.

His love for music continued to grow when he had the opportunity to learn to play the guitar and eventually perfected his talent on the bass guitar. He served the Lord with gladness by playing his bass guitar at Green Grove and with various gospel groups such as, the Voices of Zion, Jehovah's Chosen and The Revelators.

On August 14, 1971, Bennie married the love of his life Deloris (Li'l Girl) Evans Parris whom he met while playing with Levi Walker and the Impalas band. They were blessed to have two beautiful daughters.

Bennie was employed by Deer Field Specialty Paper for 36 years. After retiring he attended Augusta Technical School for Heating and Air. He took pride in providing and caring or his family. As a devoted man of God, and a family man, he was an example of unconditional love to his wife, children, grandchildren and great grandchildren.

Bennie was preceded in death by his father Donnie L. Parris, his mother Eula B. Parris, three sisters, Lela M. Sapp, Georgia L. Bell, Katie N. Clark and a brother, Willie D. Parris. He leaves to cherish lasting memories a loving wife of 50 years, Deloris Parris, two daughers, Tami L. Newton and Benyetta D. Parris, two sisters, Eula L. Martin (Evans, GA) and Floria B. Tanksley (Las Vegas, NV); five brothers, Elder Ulysees (Josie) Parris, Sr. and Leslie R. Parris, Sr. (Rochester, NY), Rev. Roy L. (Ernestine) Parris, Sr. (Atlanta, GA), Retired Sgt. 1st Class Eugene (Rose Marie) Parris (Daytona Beach, FL) and Harvey (Annie) Parris, Sr. (Augusta, GA); three grandchildren, De'Chan Newton (Scoot), Quinnecia Parris (Q-tip) and TaCoria Wood (Cori); five great grandchildren, De'Chan J. Newton, Tekaila Martin, Derek Gardner Jr., Michael B. Johnson Jr., and Derea' Gardner; sister-in-laws Mary Abrams, Bernice Evans (Waynesboro, GA), Annie Bell Chandler (Alexander, GA), Vernell Evans (Harlem, NY), and Mary Evans (Greenville, SC); a brother-in-law, Norman Evans, Sr. (Waynesboro, GA); a host of nieces, nephews, cousins and friends.

Funeral Services will be held Saturday, December 4, 2021, 11:00 a.m. at Windsor Spring Baptist Church, 3692 Windsor Spring Road, Hephzibah, GA 30815. Visitation for the family will be held Friday, December 3, 2021 from 2:00-3:00 p.m. and public visitation will be held from 5:00-7:00 p.m. at Phinazee and Son Funeral Home, 404 West 8th Street, Waynesboro, GA. Interment will be in the Thompson Bridge Baptist Church Cemetery, 2905 Seven Oaks Road, Waynesboro, GA 30830.
LINKS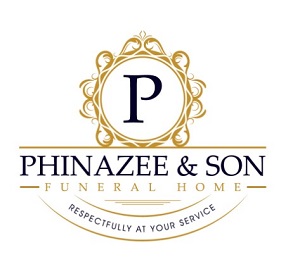 Phinazee and Son Funeral Home

The Augusta Chronicle - Memoriams
http://chronicle.augusta.com