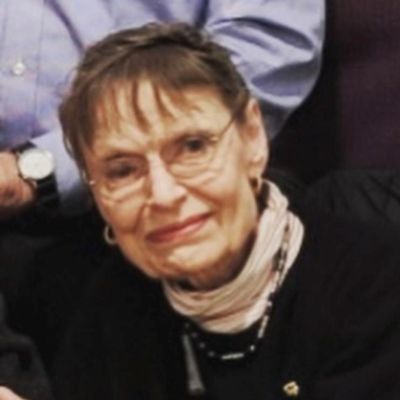 Barbara Entriken
Coronado
What do you remember about Barbara Entriken? Share your stories and photos here, and invite others to come share their memories.
Barbara E. Coronado passed away peacefully on December 9, 2021. She was born in Ft. Worth, Texas and raised in Ardmore, Oklahoma by her parents Rebecca Love and James Spencer Entriken.

Barbara began studying art in 4th grade in Chicago and she won second prize in sculpture at the Corcoran Art Gallery and did the artwork for her high school yearbook in Ardmore. She was a member of the National Honor Society. Prior to entry into college, she studied art under teachers from South America, New York, Ardmore, and Oklahoma City. She went to Oklahoma University and joined the Kappa Alpha Theta sorority. After her freshman year, she transferred to Pratt Institute in New York to further her natural talents in art and excelled in painting abstract oil pieces and commercial art. She received numerous awards and one of her paintings was selected for an exhibit at the Houston Museum of Fine Arts in 1962.

Following a surgery to remove a benign brain tumor in the 1980s she started the Acoustic Neuroma Society in Dallas as a support group for those who had had lost their hearing, balance and in some cases had facial paralysis. She wanted to share what she learned to help others. As part of regaining her balance, she was encouraged to begin Taekwondo. She earned her Purple Belt and formed a group while training at the Cooper Athletic Center, called the Steel Magnolias. This group of ladies aged 60 to 80 performed at the Korean War Memorial Dedication in Washington, DC.

She met the love of her life, Francisco X. Coronado in Dallas, married and had three children. She is survived by her children and grandchildren including her daughter Kate Coronado Johnson, her husband Matt Johnson, and their child, Aaron; her grandson, Spencer Coronado; her son Chuck Coronado and his wife Veronica Coronado and their children Alex, Abby, Zachary and Cole Coronado. She is predeceased by her husband, Francisco X Coronado, her son, Tom Coronado and her granddaughter, Corinne Johnson. Her funeral service and burial will be held at 11am at Sparkman Hillcrest.

In lieu of flowers, donations to T. Boone Pickens Hospice and Palliative Care would be sincerely appreciated.
LINKS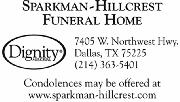 The Dallas Morning News Obituaries
http://www.dallasmorningnews.com