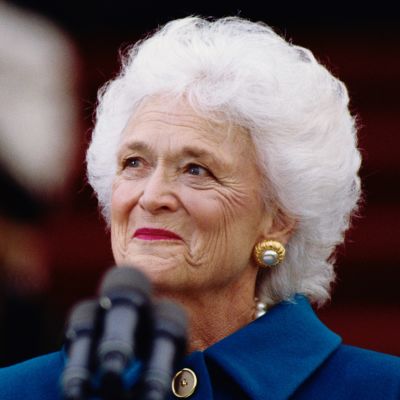 Barbara
Pierce
Bush
Barbara Bush was a former First Lady of the United States, the wife of George Herbert Walker Bush, and an advocate for universal literacy.
Some notable facts about Barbara Pierce Bush include:

- Barbara (née Pierce) Bush is related to both Franklin Pierce (14th POTUS) and Henry Wadsworth Longfellow and is a descendant of Mayflower passenger Henry Samson.

- She met George H.W. Bush at a dance when she was 16 years old and they were engaged a year and a half later. She married him at age 19 when he returned from World War II. She is quoted as saying, "I married the first man I ever kissed. When I tell this to my children, they just about throw up."

- She is the mother of former president George W. Bush, former presidential candidate Jeb Bush, Neil Bush, Marvin Bush, and Dorothy Bush Koch. Her daughter Pauline Robinson Bush died at age 3 of leukemia.

- Barbara began her advocacy for literacy when she was Second Lady of the United States under the Reagan administration.



Read more about Barbara Bush in the New York Times article...
LINKS
NY Times Obituary
https://www.nytimes.com/2018/04/17/us/barbara-bush-dead.html
Wikipedia Page
https://en.wikipedia.org/wiki/Barbara_Bush