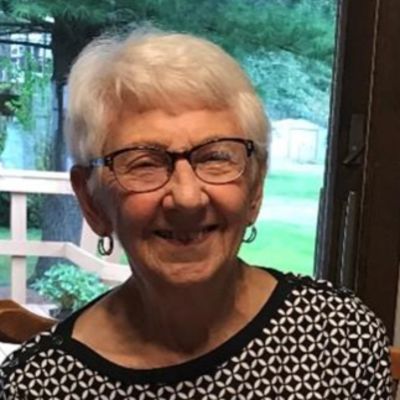 Audrey
Lami Way
What do you remember about Audrey? Share your stories and photos here, and invite others to come share their memories.
Sharon, WI - Audrey (Lami) Way, of Sharon, was born on August 27, 1932 in Elkhorn, Wisconsin to Charles and Beatrice (White) Lami. Audrey passed peacefully from this life into the next on Monday, July 18, 2022 at Golden Years of Lake Geneva, Wisconsin 44 days prior to her 90th birthday.

Audrey was born, raised and lived in Sharon her entire life. She started first grade at age 5 at the Sharon School and went through high school, graduating in 1950 at the age of 17. She was a cheerleader, in the choir and the junior class president. As such, she was also the Prom Queen and chose her future husband, LeRoy, to be her King.

Audrey loved to dance. Sharon School had a 24-record jukebox in the gym and every day the students could dance during the noon hour. She learned how to dance and taught others to dance. She'll also tell you that she taught LeRoy to dance. Anytime music came on, her hands and feet would just start movin'. She asked everyone she met if they liked to dance or knew how to dance. She couldn't believe that they don't teach dance in school anymore. LeRoy and Audrey danced their way around the ballrooms in the Delavan area, at the Moose Lodge and any place else there was dancing. We learned to dance in the kitchen or on the deck or anywhere there was music playing. At the age of 50, she became an aerobic dance instructor for Dance Slimnastics and taught classes in Sharon for many years.

On May 13, 1950, Audrey, LeRoy and another couple were hit head on by another car on Highway 50 near Lake Geneva. Audrey suffered a compound fracture of her right femur. In those days they did not do surgery, so Audrey was in traction in the hospital for 5 months, graduating from high school while she was there. She was able to listen to the ceremony via the emergency phone line from Sharon to Elkhorn.

Audrey received her associates degree from Rockford School of Business. She worked in bookkeeping/HR for Beatrice Foods/Kerry Ingredients in Beloit, WI until her retirement in 1994.

She married LeRoy Way at Christ Lutheran Church in Sharon on November 7, 1953. A few years later they purchased their house on School Street in Sharon where they raised their family and lived the rest of their lives. They were married for over 64 years. LeRoy passed in 2018.

Audrey was a volunteer in her community where she was involved with the Main Street Program - Model A Day where she operated "Audrey's Ice Cream Shoppe" for the day and with Victorian Christmas. She was on the 4th of July Parade committee for many years and was also a Boy Scout Troop Leader.

Audrey considered herself the historian of Sharon - she loved her home town. We considered her to be the owner of the church because she took care of it like she owned it! She was very involved in her church having taught Sunday School, helped with Bible School, was in the choir and cantata, made the weekly bulletins, helped to make quilts for the homeless, prepared food for and acted as hostess for the turkey dinners and headed up the funeral luncheons for many years.

She was an amazing baker - especially pies, her famous chocolate cookies with white frosting and her coffee cakes. Audrey and LeRoy had a large garden - they froze, canned and ate a lot of vegetables. She sewed and crafted; she was an excellent cleaner and looked forward to the "deep" spring cleaning; she hung her laundry on the clothesline in an orderly fashion. She loved her flower gardens and how beautiful her trees looked in the fall. She was an avid reader. She loved to porch sit - especially when friends stopped by to visit with her. She was excited to meet up with her friends for coffee hour and conversation at the library on Wednesday mornings. She thoroughly enjoyed sitting in her living room, having her coffee, listening to WGN on the radio and looking out at the goings on at the school.



Audrey did not complain - she might grumble a little and definitely had her opinions, but she did not complain. She was frank and matter of fact. She was grateful for everything - her family, friends, church and Sharon. Most of all, she loved her family. Audrey firmly believed that the life you live is the lesson you teach. A direct quote from Audrey was "I've told all my friends and some people that I don't know very well, that we have the best kids in the world."

Audrey was the recipient of the Walworth County Fair Outstanding Senior Citizen Award, the Village of Sharon Citizen of the Year Award, and together with LeRoy, the Walworth County Fair Grandparents of the Year Award.

Audrey is survived by her children: Dan (Deb) Way, Kathy (Dave) Frederick, and Chip (Debby) Way; grandchildren: Danelle (Michael) Lawler, Katie (Josh) Hyndman, Brian Freiesleben, Maddy Freiesleben, Rachel Way and Megan Way; great-grandchildren: Weston, Mason and Alivia Lawler and Avah and Quinn Hyndman; brother, Jack (Loretta) Lami.

She is preceded in death by her parents, her husband and a brother, Ken.

A visitation will be held on Sunday, August 7, 2022 at Toynton's Sharon Funeral Home, 210 Baldwin St, Sharon from 3-7 pm. The funeral service will be on Monday, August 8, 2022 at 11 AM at Christ Lutheran Church, 228 Martin Street, Sharon. In lieu of flowers, memorials may be given to Christ Lutheran Church. For more information visit www.ToyntonFuneralHome.com or call 262-275-2171.

Tremendous thanks go to the nurses and staff at Golden Years in Lake Geneva for their patient and loving care of Audrey. Special heartfelt thanks to Debbie Wojcik for her friendship with Audrey and her compassion and care for her, and to the staff and nurses of AseraCare Hospice for their tender and comforting care of Audrey.
LINKS

The Gazette
http://gazettextra.com