Asher
E.
Schroeder
How do you know Asher? Please share your stories and photos, and help spread the word about this page!
Asher E. Schroeder, 96, died peacefully at his home in Maquoketa, Iowa, on January 10, 2022. He was born on May 12, 1925, in Maquoketa to Lee Schroeder and Carol (Doughty) Schroeder. He graduated from Maquoketa High School in 1942 and worked for the Iowa State Highway Commission until drafted into the Army in 1943. He served in the 4th Infantry Ivy Division as a combat engineer, landed on Utah Beach on June 14, 1944, and engaged in several battles in France, where he participated in the liberation of Paris, Belgium, and Germany. He was wounded and captured in the Hurtgen Forest in Germany on November 14, 1944 and was held captive in several different German POW camps until his liberation on April 2,1945. He returned to the United States after hospitalization in Paris in May of 1945 and was periodically rehospitalized until his discharge from the service in December 1945.

Asher enrolled at the University of Iowa in January of 1946 and married Catherine Seebereger, also of Maquoketa on June 9, 1946, graduated from the University and enrolled in the Iowa Law School, graduating from Law School in 1950. He returned to practice law in Maquoketa, served three terms as Jackson County Attorney (1957-1962), and was appointed United States Attorney for the Northern Half of Iowa in 1967 where he served until 1969. He was appointed Head Legal Counsel for the Iowa Department of Transportation in 1969, served as such until 1978 when he returned to the United States Attorney's Office and continued serving in the United States Attorney's Office until his retirement in 1987.

Asher retired to Maquoketa where he continued residing until the time of his death. During his retirement he remained active in the community activity and services, prominent among them, Rotary and the Jackson County Historical Society. He also enjoyed visiting with family and friends to whom he was an inspiration for a life of service to his family, community, and country.

Asher was preceded in death by his parents, his wife Catherine (Seeberger) Schroeder and a sister Carol Lee (Richard) Edwards of Livermore, CA. He is survived by his three sons Bill (Sally) Schroeder of Ankeny, IA, John (Karen) Schroeder of Sigourney, IA, and David Schroeder of Dubuque, IA; a brother Karl (Eleanor) Schroeder of Maquoketa, IA; sister Muriel (Dick) Stapp of Sun City West, AZ; three grandchildren, Peter (Kristy) Schroeder of Stockton, CA, KT (Ryan) Albaugh of Jacksonville, FL, and Rachel Olson of Altoona, IA; and four great-grandchildren, Johnna and Asher Schroeder of Stockton, CA, and Grace and Sophia Albaugh of Jacksonville, FL.

Memorials may be directed to the American Cancer Society, Jackson County Historical Society, or the University of Iowa Stead Family Children's Hospital.

The family would like to especially thank Hospice of Jackson County for all the special care given to Asher and to them.

A funeral mass celebrating his life will be held at 10:30 A.M., Saturday, January 22, 2022, at Sacred Heart Catholic Church in Maquoketa. Visitation will be held on Friday, January 21, 2022, from 4 to 7 P.M. at Carson Celebration of Life Center in Maquoketa. Burial will be at Sacred Heart Cemetery, Maquoketa, with military honors.

It will be required to utilize masks during the visitation and services.

Online condolences may be left at www.CarsonAndSon.com.
LINKS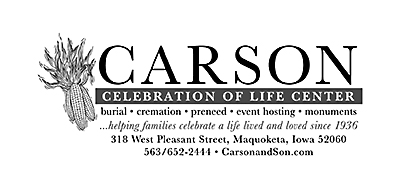 Carson Celebration of Life Center
The Des Moines Register
http://www.dmregister.com

Telegraph Herald
http://www.thonline.com