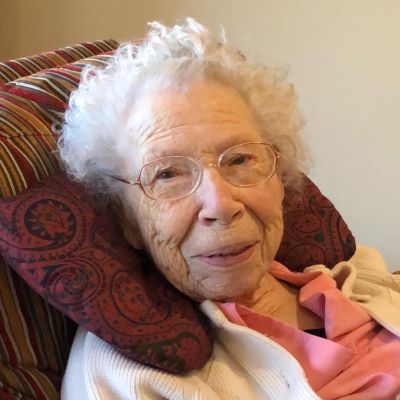 Arlene
Midgley
Help us celebrate Arlene! Please share your stories and photos, and invite others who remember Arlene.
Arlene (Kenyon) Midgley, 99, passed peacefully on August 7th at the Mertens House in Woodstock, Vermont.

She was born April 25, 1922, at the family farmhouse on River Road in Westmoreland, NH to Clyde and Bertha (Christian) Kenyon.

Arlene was the 3rd of 4 siblings to attend grades 1-8 at the Corner School on Poocham Road where she learned her beautiful penmanship. She used that penmanship for a lifetime of cards and letters. She graduated from Walpole High School.

Arlene enlisted in the Army during WWII and served in California doing clerical work. At the end of the war, she married an Army officer, and had one daughter, Karen. After a divorce she returned to the family farm with Karen, then lived many years on Grove Street in Keene, NH where she worked 29 years at Miniature Precision Bearings.

After Karen graduated from Keene State College in 1969, Arlene moved back to the family farm and devoted herself to the well being of her parents, siblings, daughter, friends, and neighbors. Much of her energy also went to the East Westmoreland Church where she was treasurer/secretary and Sunday School teacher.

She maintained a lovely 1780's farmhouse, lawn and flower gardens and had a love for all animals, especially cats, golden retrievers, Herefords, and red wing blackbirds. She was a well-known cook and shared generously from her kitchen.

She was a loving and proud mother and grandmother, and in her last years, four great grandchildren brought her much joy.

When dementia began in her 90's, she sold her beloved Westmoreland home and enjoyed five years living with Karen and son-in-law, Gerry, in Woodstock, VT. For the last 2 years she resided at a small, private nursing home where Karen and Gerry's family could visit often prior to the pandemic.

Arlene lived an honest, caring, devoted, and faith based exemplary life.

She was predeceased by her parents, her siblings, June Gerrish, Lloyd Kenyon, and Sterling Kenyon, as well as many dear friends.

Arlene is survived by her daughter and son-in-law Karen and Gerry Hawkes, granddaughter, Heather (Nick) Wolfe and their daughters, Norah, Helen, and Esther, as well as her grandson Ethan (Caitlynn) Hawkes and their son Everett, plus nieces and nephews and their families.

A private graveside service for the immediate family will be held at a future date. Condolences may be left for the family on the Cabot's Funeral Home website at https://www.cabotfh.com/

Memorial donations, if you wish, may be sent to the Westmoreland Historical Society, P.O. Box 105, Westmoreland, NH 03467.
LINKS
Cabot Funeral Home
http://www.cabotfh.com

The Keene Sentinel
http://www.keenesentinel.com