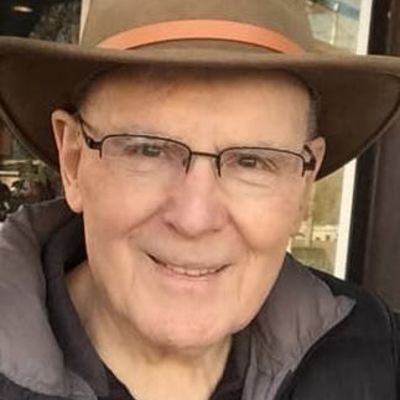 Archie
"Art"
R.
Thornton
Jr.
How do you know Archie (Art)? Please share your stories and photos, and tell others about this page. Scroll down to see more!
When you read this, I hope to be smiling down upon you from where the Bible states, "There will be no more tears and no more suffering." God has blessed me in this life, far beyond my deserving. I have known joy as well as sorrow, laughter as well as tears, rain as well as sunshine. I feel grateful as I write this farewell to life. I'm mostly grateful for my family and friends. What would life have been worth without them? God is Love, and that love was made manifest to me through your lives.

A short history: I was born in the City of Angels (Los Angeles) in 1933, to Archie R. Thornton and Hazel Clay Thornton, and raised mostly in Compton, California. After H.S. graduation, in 1951, I enlisted in the US Air Force, and served in the Korean War. After an honorable discharge in 1955, I received God's call to prepare for the Christian ministry.

About that same time, I met and married Ethel Ruth Hankins in Albuquerque, New Mexico. We attended Bible College together in Long Beach, California. Following that I attend Seminary at Butler University, in Indianapolis, Indiana, while serving two rural churches. Our four children were born during these years of higher education.

In 1965, I accepted a call to pastor the Red Rock Christian Church in Boise, Idaho. Boise remained my home until I moved to Albuquerque, New Mexico 49 years later, in 2014, to be near two of my children. I consider the eight plus years I served at Red Rock to be the highlight of my dual career as a Minister and Hospital Chaplain.

Following a divorce in 1974, I resigned as pastor at Red Rock. Several years were then spent in the business world. But pastoral ministry was my calling, and a door opened to it at the Boise V.A. Medical Center. I served as Chaplain there until retiring in 1995 and continued as a part-time Chaplain for 12 more years. During those years I earned Certification as a Fellow in the Association of Professional Chaplains and was Chief of the Chaplain Service. Serving veterans and their families was a great honor and a privilege.

While living in Boise, I gave back to the community, working and holding office in several groups: PTA, Kiwanis, Mental Health Ass'n, Conf. on Social Welfare, and Boise Ministerial Ass'n. In retirement, I volunteered with Habitat for Humanity, Meals on Wheels, and the Red Cross. I believe that Service to others is the rent we pay for the space we take up on earth.

Over the years, I have enjoyed playing handball and racquetball weekly, golfing, painting fine art, writing, reading worthwhile literature, a weekly book club, gardening, being out in nature, fishing, camping, and traveling.

Living and raising my children in Boise was a marvelous experience. As I say Goodbye, I want to thank all the wonderful people I have known there who contributed to the well-being of my family: the Red Rock Church community; the public school teachers who taught my children through all the grades; the good friends who supported me; and all of you whom I knew in any way whatsoever. Boise will always have a very special place in my heart. God bless you all.

As I bid you adieu, I share part of Rudyard Kipling's poem, "Recessional." The second stanza reads: "The tumult and the shouting dies, The Captains and the Kings depart; Still stands Thine ancient sacrifice, An humble and a contrite heart. Lord God of Hosts, be with us yet, Lest we forget – lest we forget!"

I am survived by my daughter Hazel Kay Thornton and son Michael Ray Thornton in New Mexico; son Kendell Clay (and Monique) Thornton in North Carolina; and son Russell Jay (and Tami) Thornton in Missouri; three grandchildren, Nick, Alex, and Vinca Marie; and several nieces and nephews. To my children I say a special, loving Farewell. You have meant far more to me than you will ever know.

My remains will be cremated and inurned at the National Cemetery in Santa Fe, New Mexico.

Any contributions of money that you wish to make in my memory may be given to the Red Rock Christian Church Memorial Fund (in Boise, Idaho) in my name.