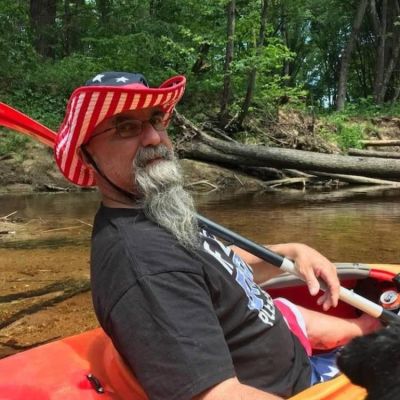 Anthony "Tony"
Tepper
Did you know Anthony "Tony"? Please share your stories and photos, and help spread the word about this page!
How does anyone ever say goodbye?! Especially to a man who impacted and brightened so many people's lives? Brightened is used loosely as a term to describe a man that challenged others with his quick wit, smart ass retort, and colorful expressions. Tony, otherwise known as Yo Man or officially known per his birth certificate as Anthony Gene Tepper passed away on 12/13/20.

Tony held many roles in his life. First, as husband to Lee Tepper and second to their blended family of five children and significant others, Chris and Alyssa Simpson, Christie and Greg Proulx, Heather and Tim Cutter, Erica Simpson and Shannon Taylor, and Michael Tepper. Let's not forget his fur-babies Trukee, Tessie, Swiper and Stash.

Tony is survived by his Father, Ernest Tepper and siblings, Scott and his wife, Pam, Mark and his wife, Cheryl and Valerie and her husband, Denis Guy.

As a kid he was known as the trouble maker. His parents, Ernest and Dorothy ensured that Tony had the cleanest mouth out of anyone in the neighborhood. It's a good thing he "didn't mind the way soap tasted."

Tony was an uncle to Joseph, Megan, Kaitlyn, Chelsey, Cristyn, Jennifer, Marisa, Denny and Allison as well as their significant others'. As an uncle, he showed his support through playful banter, sarcasm and joy. He could always find a way to connect with each and every one of us.

One of Tony's largest roles was that of Oohmpa. This title was chosen as, Tony's favorite childhood movie was Charlie and the Chocolate Factory and Lee's title of Oohma followed suit. Never knowing another Oohmpa we would say he wore the title well. His grandchildren include Lilly, Timmy, Conrad, Annabel, Seqouya, Willow, Waverley and Revy. Beyond the family members, Tony was known as Oohmpa to just about any child that got to develop a relationship with him. Needless to say Oohmpa was his grandchildren's biggest supporter in all their activities.

Outside of family, Tony was a very dedicated carpenter, working alongside his older brother to accomplish whatever building goals were set. He often met his task in a joking around fashion by giving his older brother a hard time, but his work never faltered. He took a deep dedication in his projects to strive for wonderful craftsmanship and obtain the goal that was set. These days were often highlighted by satire song lyrics to harass those working with him, but pride always shown through in his finish product.

Aside from the roles listed above, Tony was beyond a great friend. He had a natural ability to connect with people as soon as words were spoken. He was friendly, sarcastic, crass, loving and funny. Tony's family is so much bigger than the names listed above as he welcomed people into his world with an upfront policy. Simply put, you knew where you stood with him and if you didn't like it....well that's that. There weren't many people that ever walked away once they got to know him. Maybe it was his welcoming eyes that caught you off guard or his great sense of humor or, hell, his fantastic sense of fashion. There is no other that could rock an American flag cowboy hat with matching swim trunks floating in a river and make it look so good!

There will never be enough words to express who and what he was to all of you and all of us, we just know that he was a man that made this world way more fun! So to you Tony! As you passed, the sun burnt through the clouds just enough for us to see Grammy welcome you. We hope she didn't smack you too hard on arrival and that you found peace in being with her again. We assume that even though you have not been gone long, you have already picked a seat to watch the Sox and Pats play with a comfy chair and beverages. Staked out a place to see your offspring and extended family grow and participate in everything they love and give them words of encouragement, and establish or find a campsite near a river to spend the summer floating and having camp fires.

Lastly please know how deeply we all love you, you were like no other and no other will ever be like you. Rest in Peace Oohmpa.

At this time and per Tony's wishes the family will not be doing a formal service. We will have a celebration of life in the spring.

In lieu of flowers, memorial donations can be made in Tony Tepper's honor to Concord Youth Hockey PO Box 682, Concord, NH 03302, Attn: Wes Riley, Treasurer or direct donations can be made at ConcordYouthHockey.org by clicking on the "Tony Tepper Memorial Donations" page or to Live and Let Live Farm 20 Paradise Ln, Chichester, NH 03258.

Arrangements are entrusted to the Bennett Funeral Home of Concord. Fond memories and expressions of sympathy may be shared at https://www.BennettFuneral.com for the family of Tony Tepper.
LINKS


The Concord Monitor
http://www.concordmonitor.com