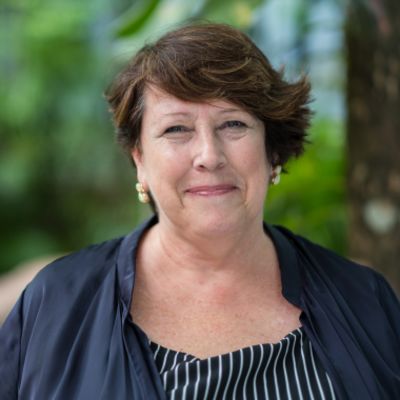 Alison
Catherine
Owen
Please help us celebrate Alison's life by sharing what you appreciated about her, what you'll miss, a funny story or a touching moment.
Alison was born on 7 September, 1959 in Walsall, Birmingham, England. Her parents were Scottish having moved to Walsall a few years before she was born.

Alison has one elder brother, Alex who lives in England.

After finishing her studying in Aldridge she trained as an Occupational Therapist in Huyton, Liverpool. Part of that training was Frank, who she bumped into in Whitehaven whilst on a hospital placement.

The Frank bump stuck and they married two years later in 1982, moving to Singapore in 1984. A key part of that move was Frank with his broken leg from a football accident, that didn't matter, Alison was on the move and led him up the steps of the plane.

Soon after their arrival in Singapore her work virus got the better of her and she had joined Singapore General General Hospital in the Burns and Plastics Department, helping victims in their rehabilitation back to daily life. The Singapore medical system had been alerted to Alison's skills and soon she was working in different hospitals each day of the week. Socially Alison seemed to be getting a little bored as she got herself onto a committee managing a large annual dinner for the hospital.

And then the next stage, late 1985, Alison pressured into teaming up with ex colleagues who were working at the new University hospital (NUH), Alison was assigned the task of setting up the Occupational Therapy Department. She relished it.

Not content with a days work she thought family expansion would be a good idea and James arrived on the scene. However, no sooner was he in the cot then she was back at work.

In 1988 it was decided that Singapore was to be history and Alison, Frank and James embarked on the the holiday of a lifetime in New Zealand, Tahiti and America. Alison's energy during that trip was restricted as she was six months pregnant with Neil and Paul followed shortly afterwards.

Alison stayed off work to care for the boys but it wasn't long before she could no longer ignore her calling. To top it off, she decided to dabble in fitness, diving into martial arts which eventually resulted in a fractured knee cap which involved three surgeries, lots of therapy and effort.

With her leg in plaster Alison considered a positive move would be Frank's acceptance of an employment opportunity in Thailand - this required her to care for herself, her fractured knee and 3 boys, whilst Frank got a Thailand base established.

Her knee problems were significant and resulted in a decision to have further surgery when she arrived in Bangkok - a decision only taken after consulting with her ex colleagues in Singapore. After this surgery and months of therapy and hard work it resulted in her being able to walk without too much restriction and with this the work virus returned with resulting part time assignments at Bangkok Patana, St. Andrews and Systems Little House. Of course, the development of James, Neil and Paul was always at the forefront of her mind.

Alison paused for 5 minutes during which time she decided to develop her own centre to provide child services to children with needs. Acorns To Oaks Centre (ATOC) was born in 1984 in Phrakanong, Bangkok.

Whilst Alison herself was a relatively mature 'acorn' it did not stop her growing into a very large oak tree and the centre, and herself, acquired both local and international recognition. She thrived during the development of ATOC and was well supported by her local and international staff whom she maintained contact with (as much as she could!).

Sadly she decided to close ATOC and on the need for this idea of "work life balance" which she'd read about it on the internet. Alison had read about this theory but it is very doubtful she truly understood how it worked. She was immediately back in the deep end and loving every minute of this new episode in her life - Head of Student Support, the Early Learning Centre, Bangkok. She loved the environment, the challenges, the professionalism and input she was able to give to parents, staff and anyone else who knocked on her door or walked passed her. Occasionally work extended into after school hours discussion and involved considerable laughter supported by occasional reds and whites.

Whilst excelling in work the boys were doing well with their work and this gave her great satisfaction whenever she set aside time to think of such things.

Charity work, and in particular Soroptimist, had become a very important part of her life which ran concurrent with her work. Active participation in events, committees, social and country outings to the children they sponsor were all enjoyable for her.

Penning Alison's final chapter is not easy, however following a soi accident she sustained knee damage which required an operation in January 2020. Rehabilitation went well until the 4th February, 2020 when she suffered a pulmonary embolism which resulted in sudden and severe lung, heart and brain damage.

Alison passed away peacefully on the morning of Wednesday the 5th February 2020 in Samitivej Hospital, Bangkok.

She left an enormous legacy with everyone she came into contact with.

Goodbye Alison, we will all miss you and you are a hard act to follow.
Memories
Looks like something went wrong.
Reload the page and try again.