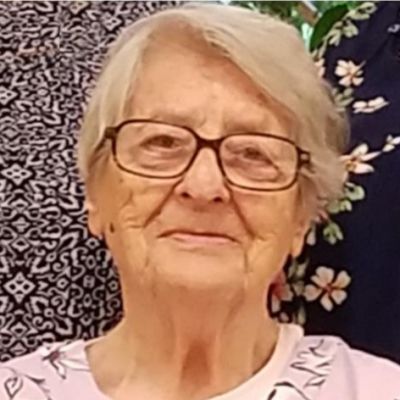 Alice
Joan
Borsh
Join us in celebrating Alice—please share your stories and photos, and help spread the word about this page!
Even before the coronavirus struck, society was dealing with heightened levels of anxiety and depression. Then came COVID-19 and, as a result, we're all more isolated than ever. "Life is hard" has become a mantra for many of us. But the death of a loved one has a tendency to put things in perspective. Alice "Joan" Borsh, who spent 72 years in the same Boardman home, left us at 95 years old on Jan. 21. Joan leaves a legacy, more memories to fit on this page, and an incredibly strong family who will miss her dearly. When you wake up on the wrong side of the bed, or you're having aparticularlyhard day and life seemstoooverwhelming, think of Joan's story. Joan was born in Worcester, England, in February of 1925. When she was 18, England was in the throes of World War II and her hometown was often under the attack of German bomber aircraft. She told stories of having to hide in her house with the lights out and the curtains closed so the planes couldn't see where to attack. Thousands of U.S. soldiers were sent to station in and around Worcester, and Joan enlisted as a secretary for the 96thGeneral Psychiatrics Hospital for American Soldiers.

It was at a pub in Worcester with her sister and friends where Joan met Frank Borsh, an American who was working as a Postal Clerk for the 165thArmy Hospital. The two dated for about a year, often catching movies after work, and were married in Worcester on September 7, 1944. Not long after Joan learned she was pregnant, the war was winding down and Frank was shipped back to the United States. She promised Frank she would follow him back to his home in Youngstown. So, in May of 1946, Joan and her 3-month-old baby, Gerald, traveled two weeks across the Atlantic Ocean by boat to New York, where Frank met them and took them back to Youngstown. Frank and Joan built one of the first homes on Trenholm Road, across from the Boardman Shopping Plaza along Route 224. At the time, it was a rural area. She told stories of having to drive to downtown Youngstown for bread and potatoes.Over the years, the couple had five children - Gerald Borsh, Betty Pauley, Carole Dunfee, Laurie McEwan and Mike Borsh. Joan's pride and joy was her family, and just by glancing into her eyes you could see immediately how much she loved her children and eventual grandchildren, and how much that love was returned. Through ups and downs, trials and tribulations, Joan was the rock for her family. They gathered at that house on TrenholmRoad at Christmas every year. She was the go-to babysitter, and she was there for every birthday celebration. She was surrounded by family at that home when her soul left Earth.Frank died at age 85 in 1999. Along with her parents and husband, Joan was preceded in death by two of her granddaughters, Shannon McEwan and Jessica Grissom; a grandson, Andrew Freed; and her twin sister, Mary Betty Lawrence of Bolton, England. We are confident Joan is reuniting with them in Heaven.She leaves three daughters, Betty (Paul) Pauley of Driftwood, Pennsylvania, Carole (Richard) Dunfee of Cadiz, Ohio and Laurie (Rod) McEwan of North Lima; two sons, F. Gerald (Ruth) Borsh of East Rochester, Ohio and Michael Borsh of Boardman; 11 grandchildren; 16 great-grandchildren and one great-great grandson.Joan's funeral services will be held at 1 p.m. Monday, January 25. In lieu of flowers, her family asks to consider a donation to the Mahoning Valley Down Syndrome Association or the Autism Society of Mahoning Valley.In general, though, we ask that the next time you are feeling down and out, take a deep breath and think of a loved one who is no longer with us. We'll be thinking of grandma.
LINKS

Lane Family Funeral Homes-Anstrom Chapel

The Vindicator Edition of The Tribune Chronicle
http://www.vindy.com