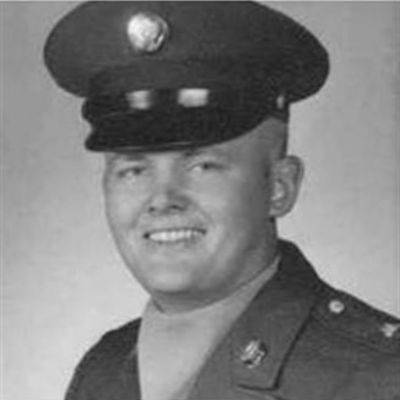 Alfred
"Sonny"
Clarence
Brandvold Jr.
Join us in celebrating Alfred—please share your stories and photos, and help spread the word about this page!
Al passed away on March 4, 2023, at the age of 79. He was a resident of the Minnesota Veterans' Home in Minneapolis. Al was born and raised in Kenyon, Minnesota, and attended school there graduating from Kenyon High School with the class of 1962. He was baptized and confirmed at First Lutheran Church in Kenyon and grew up in a house next to his father's block and tile factory (Brandvold Block and Tile) next to the Kenyon municipal swimming pool. The property is now Depot Park in Kenyon.

After high school graduation he went to work at a local firm, and then received a notice from Uncle Sam to join the Army. Off he went to basic training and shortly thereafter, to Vietnam. He was a radio operator, so always in the thick of battle, and particularly Agent Orange, the infamous herbicide used by the Army to reduce the forest cover. Not only did it reduce the forest, but also caused cancer in many soldiers, and Sonny was no exception. In January of this year he had cancer throughout his body attributed to Agent Orange and given a short time to live, which proved all

too true.

When he was growing up he was always called Sonny, but when he returned from Vietnam, he went to the Minnesota Business School, and then joined the corporate world, and Sonny became Al. He later moved to Minneapolis and established an accounting practice.

Sonny was predeceased by his grandparents, John and Gilma Underdahl and Rasmus and Martha Brandvold, and his parents, Alfred and Clarabelle Brandvold. He is survived by his sisters, Joan Sahl (Michael) of Plano, Texas, and Carol Sherley (Harold) of Ross, California, and many nieces and nephews: Erik, Kristena, Arabella, Jennifer and Caroline Sherley; Alison, Angela, and Anders Sahl, and 13 great nieces and nephews, as well as numerous cousins.

The family is very grateful to the staff of the Minnesota Veterans' Home for the kind and caring treatment Al received. It's an exceptional place. He was fortunate to live his final days there.

Funeral services will be conducted at the Washburn-McReavy Chapel, 2300 W. Old Shakopee Road, Bloomington, MN. Thursday, March 9, 2023. Visitation is at 10AM followed by services at 11AM conducted by the Rev. Shannon Bauer.

Interment will be a 12:45PM at Fort Snelling National Cemetery.
LINKS
APG Southern MN House Account

Kenyon Leader
http://www.southernminn.com/the_kenyon_leader