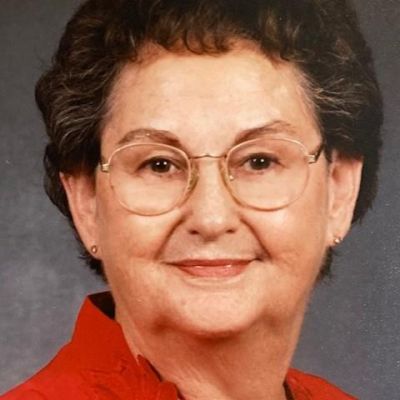 Alberta June (Hall)
Wine
How do you know Alberta June (Hall)? Please share your stories and photos, and help spread the word about this page!
On Feb. 11, 2022, Alberta June (Hall) Wine slipped the surly bonds of earth to touch the face of God. She was born to Albert and Oneda (Autry) Hall in June of 1932 in the Denton Community east of Lawton. Her family moved to Lawton when she was seven. June graduated from Lawton High and married Clifford Wine in 1950.

As a military wife she lived and worked in many different places. Their daughters Amelia, Sherry, and Angela were all born in different states. When Clifford retired in Lawton, she decorated cakes at Johnson's Bakery for several years. June then worked at Fort Sill for Hawthorne Aviation, then in civil service for engineering and housing/public works.

June loved cooking for her family and having them over for holiday celebrations. Every Christmas she prepared an amazing meal of teriyaki steak, fried rice, and sides. Carols were played on the piano by Angela, and everyone joined in to sing. Then the manger scene was recreated by the grandchildren and great-grandchildren to "Away in a Manger". For many years she planned and looked forward to the Autry family reunion and annual family New Year Eve celebration where she would catch up with relatives.

June had special memories of the years she camped at Lake Lawtonka with her adult siblings and cousins. She was an avid fisherman and loved the lake fish fries. She attended and enjoyed many of her grandchildren's events. In her later years she got so much joy out of seeing her great and great great-grandchildren.

June loved God and her church family. She was a long-time member of Cameron Baptist Church then enjoyed making new friends at First Baptist Church in Anadarko. She was very creative and had many artistic talents including sewing, photography, quilting, cake decorating, and painting beautiful pictures.

The family extends their appreciation to the aides at Brookdale; Amanda, Angela, Elaine, Kathy, Kitty, Makenna, and Sherry for the wonderful care they provided and also to Dr. Houseman and Carla.

Awaiting her in heaven for a great family reunion are her parents, husband Clifford, daughter, Angela, brother, Don Hall, and sister, Adelene Smith and many cousins.

The twinkle in her eye well be missed so much by her daughters: Amelia Stas and her husband Ben; Sherry Cofer and her husband Darrell; grandchildren: Tim Burch and fianc? Michelle; Melissa Mahaffey and husband Mike; Bryan Burch and wife Stephanie; Shara Capper and husband Eric; Brandon Cofer; Derek Cofer and wife Allison, and Regina Stas; great-grandchildren: Taylor Burch; Chianne Misel and husband Jonathan; Bryan Burch; Bradley Burch; Casen Capper; Cantyn Cofer, and Cooper Cofer, great great-grandchildren: Layne and Bristol Misel; sister, Louella (Hall) Michael and husband Allen (Mike) Michael.

Funeral will be at 1:30 p.m., Friday, Feb. 18, 2022
, at Cameron Baptist Church, Lawton. Burial will follow at 2:30 p.m., Friday, Feb. 18, 2022
, at Sunset Memorial Gardens Cemetery, Lawton.

Visitation will be 9 a.m. - 8 p.m., Wednesday, Feb. 16, 2022 and 9 a.m. - 8 p.m., Thursday, Feb. 17, 2022, at Ray and Martha's Funeral Home, Anadarko. Family will greet guests from 5 p.m. to 7 p.m. Thursday, Feb. 17, 2022. Services are under the direction of Ray & Martha's Funeral Home, Anadarko.
LINKS
Ray and Martha Funeral Home - Hobart

Lawton Constitution
http://www.lawton-constitution.com