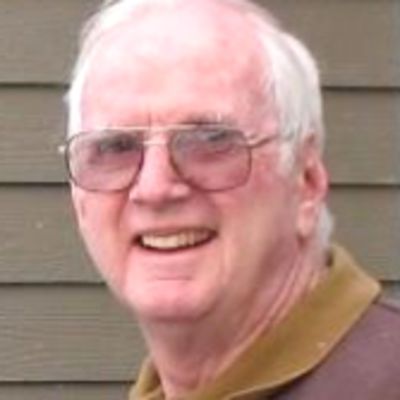 Alan
C.
McNabb
Did you know Alan? Please share your stories and photos, and help spread the word about this page!
Alan Cameron McNabb, 88, born September 13, 1931 in Detroit, MI to Duncan and Alexandrine Brodhead McNabb went to heaven from his home on February 13, 2020. Al grew up on Grosse Ile, MI, an island in the mouth of Lake Erie. He was the youngest of 6: John, Bud, Jan, Stu and Ann. At age 15, he was taken to Georgetown Prep for high school, where his tennis skills were recognized and encouraged. After graduation, he went to Cornell until his father passed and there was little money for him to continue. He worked for a year at Timken Axle, then received a tennis scholarship to Georgetown University where he worked as a Resident Assistant and entered ROTC.

He began working at GE in Schenectady but left to fulfill his commitment to the Air Force, which he planned as his career, flying F86s and F100s. He was stationed at Mission, TX, Greenville, MS, Chandler, AZ, Okinawa and Nellis AFB in Las Vegas, NV.

Now, he had two children with his first wife Margo Fisher. It was between the Korean and Viet Nam wars, but he resigned his commission as Captain and returned to GE. He held financial management positions, mainly in the cost accounting area in Large Steam Turbine-Generator in Schenectady, NY, Power Transformer in Pittsfield, MA and Rome, GA, Aircraft Engines in Lynn, MA, San Marcos, TX and Durham, NC where he was fortunate to retire at age 60 when the plant closed.

Along the way he pursued his love for tennis, playing in many NELTA senior tournaments throughout New England. The highlight of his tennis career was winning the NE Senior Doubles Championship at Longwood in 1979 with his partner Billy Hart.

He married Nancy George on February 21, 1976. As they moved around with GE they bought and fixed up houses, building a library in each one. Al's love of reading was nurtured at a young age when a kindly neighbor invited him and his sister Ann over for cookies every Saturday, giving them each a book to read then discuss the next week.

After retirement, Al volunteered as Chair of the Durham Chapter of SCORE and Treasurer of the Durham Arts Council. He enjoyed traveling to visit friends in Maine, NH and Florida and attending family events around the country. As much as he enjoyed living in the South, it was time to come to what was considered home - Pittsfield, returning in 2008. He was a money management volunteer for Elder Services and a member of the Knights of Columbus. He continued playing tennis 3 or 4 times a week and playing paddle tennis in the winter. Sadly, this all came to an end when he had a stroke in December 2015. He hoped to recover, but that was not possible. Fortunately, he could still exercise at the gym, read and watch sports on TV.

We were fortunate to have wonderful care givers, first Beverly Phillips then Sharon Billetter and Dixie Willis. Their care offered him a better quality of life than was expected. By November 2019, he longed to play tennis in heaven where he knew he would soon be going.

Al is survived by his wife, Nancy McNabb of Pittsfield, his daughter Martie McNabb of Bradford, VT, his son Alan, Jr., wife Charity and son Hawk of Ascutney, VT, nieces and nephews John & Celia McNabb, Lisa & Paul Adkins, Mary Alice and Jorge Maldonado of Austin, TX and Duncan & Linda McNabb of Arlington, VA.

FUNERAL NOTICE: A service of remembrance will be held at Dery Funeral Home, 54 Bradford St., Pittsfield on Thursday, March 5 at 2:00 PM. Calling hours will be on Wed, March 4 at Dery Funeral Home from 3-5 PM. Burial will be at a later date at Mountain View Cemetery, Castleton-on-Hudson, NY.

Memorial contributions in Al's name may be made to Georgetown Preparatory School, 10900 Rockville Pike, North Bethesda, MD 20852 or to Friends of the Berkshire Athenaeum, 1 Wendell Avenue, Pittsfield, MA 01201.


LINKS

Dery Funeral Home
http://www.deryfuneralhome.com
The Berkshire Eagle
http://www.berkshireeagle.com