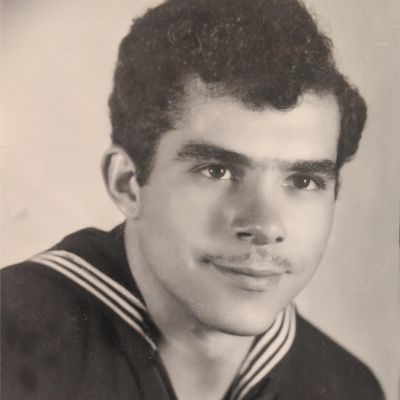 Abe
Dominguez
What do you remember about Abe? Share your stories and photos here, and invite others to come share their memories.
Our beloved Father, Grandfather and friend, Abe Joseph (Joe) Dominguez has sadly departed this earth on Saturday January 11, 2020. Joe was living his life at the age of 91 as a fully independent and proud man. He was surrounded by his loving family as he passed away in Idaho Falls, Idaho after a sudden and unexpected illness shortened his previously unstoppable march towards an expected longevity of at least 100 years.

Joe was born in Pitkin, Colorado on March 28, 1928 to Abel and Carlotta (Siqueiros) Dominguez. The family relocated to Crested Butte, Colorado where he lived out his fondest childhood memories. In 1940 the family moved to Ogden, Utah where Joe graduated from Weber High School. Always a proud patriot, to celebrate Independence Day, Joe enlisted in the US Navy on the 3rd of July at the age of 18. After his naval service, he had a long and successful career at Hill Air Force Base overseeing the maintenance and parts inventory of jet aircraft, including the F4E Phantoms and the F16 Fighting Falcons. While working at Hill AFB, Joe met the first love of his life Darlene Martinsen. He loved and accepted her children Christine, Caren and Annette as his own. Joe and Darlene initially moved to Loveland Colorado to open the "Little Gem" diner. In Loveland they gave birth to three daughters, Jody, Julie and Andrea. They eventually returned to Utah where they continued their careers at Hill AFB and were blessed with one more daughter, Angela. Joe's daughters were fortunate enough to lovingly hold their father as he passed from this world. Later in life, Joe was also married to Darlene Ignash (deceased). He also loved and accepted her children, Brad, Bart and Mitch as his own. Joe spent his final years in Idaho Falls, Idaho where he moved to be with his last true love, Carol James (deceased).

Joe had a larger-than-life personality and was an amazing people person. He touched the lives of everyone he encountered, was always very positive and offered the greatest advice. He had countless best friends throughout the West. Many of his great friends were young enough to be grandchildren or great grandchildren, a testimony to his ageless demeanor and presence. Joe was always mistakenly assumed to be at least 20 years younger than his true age. He always loved sports, and after "retiring" from Hill, he worked on several golf courses, upkeeping the greens quality to his exacting standards. His amazing golf game extended even into his late eighties, boasting some nearly par outings, while the younger golfers all watched in amazement the methodical accuracy honed by 60 years of swinging the clubs. Joe's legendary patriotism led him to always proudly display our US flag, typically on the baseball caps he wore each day. Joe's love of family was also unmatched. He constantly spoke of everyone's best qualities and attributes. Whether friends or family, we were all the absolute best in our chosen professions and in our personal lives. We will dearly miss his radiance and open heartedness.

Joe was preceded in death by his parents Abel and Carlotta, brothers Harold (LaPreal), Graciano, Bill (Roma), sisters Bertha Martinez (Joe), Helen Aragon (Art), Bette Pebley (Larry) and Vera Hansen (LaVar). He was also preceded in death by the mother of his daughters Darlene Martinsen Schleicher and stepdaughter Christine Nay. He is survived by brother Bob (Dena), sisters Charlotte Koehler (Henry), Mary Aragon (Tony) and Loretta Akerson (Warren), daughters Jody Coats (Brian), Julie Brooks (Pete Fletcher), Andrea Mills (Jason), Angela Daines (Clark), stepdaughters Caren Thomas and Annette Sartor, 25 grandchildren, 38 great-grandchildren and 1 great-great grandchild.

The 6 pm viewing and 7 pm recitation of the Rosary will both be held on Friday 1-17-2020 at Myers Mortuary 5865 S. 1900 W. Roy, UT. Funeral mass will be held at 10 AM on Saturday 1-18-2020 at St. Mary Catholic Church, 4050 S 4900 W, West Haven, UT. Graveside service and interment to follow at the Ogden City Cemetery, 1875 Monroe Blvd Ogden, UT. In lieu of flowers, an in-memory-of donation could be made to Joe's favorite charity, the Wounded Warrior Project at https://support.woundedwarriorproject.org.

Arrangements entrusted to Myers Ogden Mortuary.

Condolences may be sent to the family at www.myers-mortuary.com.
Memories
Looks like something went wrong.
Reload the page and try again.
Provided By
Post Register Memoriams